If you were seriously hurt in an accident that can be attributed to a government employee's negligence, you may be able to hold the corresponding agency accountable. Since the government has certain protections when it comes to legal claims, though, it's wise to consult a personal injury attorney before getting started.
A seasoned lawyer can evaluate the situation to determine whether you are, in fact, entitled to sue. Should you end up proceeding, your legal team will also inform you of any limitations that may apply.
Read on for some of the most important hurdles to consider before building a personal injury claim against a government agency:
1. Some Accident Scenarios Prohibit Legal Action
If a government agent acting within the scope of his or her employment was responsible for the accident in which you were hurt, it's reasonable to assume you have grounds for a claim. There are some scenarios, however, in which injured parties may not sue the government.
If you were hurt in Minnesota in circumstances involving any of the following, for example, you may not be able to proceed with a suit:
• Snowy or icy sidewalks (unless the municipality was negligent in clearing them);
• Wild animals in their natural state;
• Hazards on "unimproved real property" that's owned by the state;
• Events hosted at facilities operated by recreation departments;
• Standardized care provided at a state corrections facility; or
• Logging accidents on public land.
Since this is not an exhaustive list—and there are a host of exceptions—the easiest way to determine if you're entitled to take action is by consulting a personal injury attorney who practices in Minnesota.
2. There Is a Tight Deadline for Commencing the Proceedings
In Minnesota, the typical statute of limitations for personal injury suits arising from negligence is six years. If you intend to sue a government entity, though, you must commence the proceedings within just 180 days by notifying the appropriate parties in writing. Should they deny your claim, the applicable deadline for going to court would then apply.
3. Recoverable Damages Can Be Capped
Awards against government agencies are generally capped at $1.5 million. This figure is reduced to $1 million for claims involving accidents during recreational activities that were run by nonprofits but funded by the state (or subject to state-issued permits).
Successful payouts can account for all recoverable damages, as long as they don't exceed the associated cap. Examples of such damages include medical bills, pain and suffering, lost wages, mental anguish, home and vehicle modifications, replacement services, and loss of enjoyment in life.
Discuss Your Case with a Personal Injury Lawyer in St. Cloud
At Bradshaw & Bryant, we're not afraid to take on even the largest and most powerful defendants, including government agencies, major corporations, and insurance carriers nationwide. If you need to take action, you'll want the resources and experience of prominent and well-respected lawyers on your side, which is exactly what we provide. Complete our Online Contact Form or call 320-259-5414 to schedule a free initial consultation with a personal injury attorney in St. Cloud.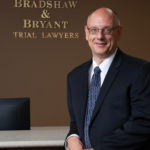 A founding partner with Bradshaw & Bryant, Mike Bryant has always fought to find justice for his clients—knowing that legal troubles, both personal injury and criminal, can be devastating for a family. Voted a Top 40 Personal Injury "Super Lawyer"  multiple years, Mr. Bryant has also been voted one of the Top 100 Minnesota  "Super Lawyers" four times.