Most slip and fall cases are filed as premises liability claims. But if your accident happened at work, your employer's workers' comp coverage might actually bar you from filing a personal injury lawsuit.
In Minnesota, nearly all employers are required to purchase workers' compensation insurance. That means most employees who get hurt on the job must file a workers' comp claim in lieu of a personal injury claim.
Since workers' comp only covers medical care, vocational rehabilitation, and a portion of lost wages, though, injured employees are inclined to pursue other avenues of compensation. Fortunately, there are scenarios in which employees may file a personal injury claim following a work accident.
For example, if you were hurt in a slip and fall while on the clock, you may have grounds for a personal injury claim if your employer failed to purchase adequate workers' comp coverage. In order to prevail, though, you'll have to prove how another party's negligence contributed to the accident.
You may also have grounds for a personal injury claim if someone other than your employer or a coworker was responsible for your fall. For example, if the company you work for uses a third-party cleaning service and they failed to mark a wet floor or to clean up a spill in a timely manner, you might have grounds for a claim against them.
Likewise, if your employer rents the space in which the company operates and the landlord failed to maintain the premises to a reasonable standard, your premises liability lawyer might name the landlord in the claim. And if you slipped and fell while taking a client to lunch, you might be able to name the restaurant owner in your claim.
In other words, there are a number of parties who could be liable for a slip and fall at work. Whether you have grounds for a premises liability claim or a workers' compensation claim will depend on the circumstances. Regardless of which approach you take, though, there are a few tasks you can do immediately following the accident to strengthen your case. These include:
Notifying your supervisor or employer in writing and requesting a copy of the incident report;
Asking any coworkers or eyewitnesses for statements detailing what they saw;
Photographing the hazardous condition that caused you to slip and fall;
Seeking medical care right away;
Following your doctor's instructions exactly; and
Letting your attorney handle all dialogue with the insurance company. 
Set up a Free Consultation with a Premises Liability Attorney in St. Cloud 
If you were hurt in a slip and fall accident at work, contact Bradshaw & Bryant to determine if you have grounds for a premises liability claim. We combine the resources of a large practice with the personal touch of a small, local law firm. Dial 320-259-5414 or fill out our Contact Form to arrange a free, no-obligation consultation with a premises liability lawyer in St. Cloud.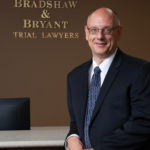 A founding partner with Bradshaw & Bryant, Mike Bryant has always fought to find justice for his clients—knowing that legal troubles, both personal injury and criminal, can be devastating for a family. Voted a Top 40 Personal Injury "Super Lawyer"  multiple years, Mr. Bryant has also been voted one of the Top 100 Minnesota  "Super Lawyers" four times.