Tuesday afternoon, a intersection collision in Benton County killed a infant and injured four others . Police are still investigating the cause. The tragedy happened at about 5:30 p.m. at the intersection of Mayhew Lake Road and County Road 74.
The truck that the infant was in making a turn from County Road 74 when the crash happened. Witnesses have indicated that it pulled in front of the southbound car.
The death comes a month after the Minnesota Department of Public Safety (MDPS) report that more than 300 people have died so far this year in Minnesota traffic collisions. According to the MDPS calculations, 450 deaths are projected for 2008. This would be a drop from 510 in 2007.
As with any death in a Minnesota motor vehicle collision, there are a number of issues that will need to be reviewed. My partner, Joe Crumley, addressed this topic in a recent article for the Minnesota Lawyers Trial magazine. I was interviewed last year on the same topic. In this case, sorrow for the families of those involved goes out.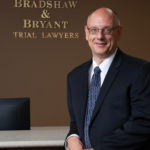 A founding partner with Bradshaw & Bryant, Mike Bryant has always fought to find justice for his clients—knowing that legal troubles, both personal injury and criminal, can be devastating for a family. Voted a Top 40 Personal Injury "Super Lawyer"  multiple years, Mr. Bryant has also been voted one of the Top 100 Minnesota  "Super Lawyers" four times.