Early Friday morning, A man was killed and his passenger injured in a stalled vehicle when they were rear ended by a SUV right-hand lane of northbound Interstate 35E at Wagon Wheel Trail. It is alleged by the State Patrol that the driver of the SUV was drunk. She was charged with criminal vehicular homicide and third-degree drunken driving.
The state patrol reported that the SUV was "swerving all over the road" before the crash. According to a update from the Minneapolis Tribune:
The Driver told authorities she had about four drinks before the wreck and didn't realize she had hit the other vehicle, according to the complaint. She had with her an open bottle of alcohol and was confused, slurring her speech and swaying in the driver's seat according to the State Patrol.
Our sympathies go out to all of those involve who were injured or lost. As with any death in a Minnesota motor vehicle collision, there are a number of issues that will need to be reviewed. My partner, Joe Crumley, addressed this topic in a article for the Minnesota Lawyers Trial magazine. I was interviewed on the same topic.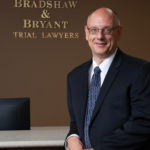 A founding partner with Bradshaw & Bryant, Mike Bryant has always fought to find justice for his clients—knowing that legal troubles, both personal injury and criminal, can be devastating for a family. Voted a Top 40 Personal Injury "Super Lawyer"  multiple years, Mr. Bryant has also been voted one of the Top 100 Minnesota  "Super Lawyers" four times.