Tuesday night , a 22-year-old Rogers woman died when her car ended up in a Maple Grove creek after spinning out on westbound Interstate 94 near Dunkirk Lane.
The woman had hit her brakes to avoid a stalled vehicle. She swerved on the icy road, slid down an embankment, through a chain link fence, rolled over and stopped in the creek. It took 25 minutes to get the vehicle out of the water. Sympathy goes out to the family and friends of this woman.
Single car accidents are the the type of accident, I blogged about with: Single Car Accidents: Is There A Claim? .
The winter conditions are affecting driving across the state. For all Drivers winter road tips from DPS and MnDOT include:
Always use seat belts.
Accelerate and decelerate slowly on icy/snow-covered roads to retain traction and avoid skids.
Do not use cruise control.
Do not "power up" hills, which may cause wheels to spin. Build momentum before reaching a hill and don't stop while traveling uphill. Reduce speed before going downhill.
Know your brakes. Keep the heel of your foot on the floor and use the ball of the foot to apply firm, steady pressure on the brake pedal.
Give yourself plenty of travel time. Don't put your schedule before safety.
Clear snow and ice from vehicle windows, hood, headlights, brake lights and directional signals.
Headlights must be turned on when it is snowing or sleeting.
Most police officers asked say the key is usually to Just Slow Down.
Sgt. Jeff Wenker of the Marshall Police Department made a number of great suggestions concerning winter driving. They included:
Watch the weather, don't travel if the weather is bad
Carry extra clothing, extra blankets and extra food with you and a heat source such as Sterno or candles is not a bad idea to take along.
An empty can, such as a coffee can, can be used for bathroom breaks. Toilet paper and hand wipes could be useful, as well.
If you are on medications, always carry extra.
Don't store extra water in your vehicle because it will freeze, but take extra water with you before you leave on the trip.
Make sure your cell phone is fully charged and bring a charger with you.
Let someone know the route you will be taking and do not deviate from it.
Take your time. A four-hour trip might take five. It's easier to drive slow when you've allowed the time.
If you do slide off the road or have to pull over due to the weather or road conditions: Your car can be an effective shelter so don't leave it unless you have to. Windchills are dangerous and can kill if you are exposed for too long. A vehicle offers some protection from that.
If it's a white-out, you don't want to walk out, because you can lose your way.
Run the engine 10 minutes every hour to help keep you warm. Bundle up in the extra clothes and blankets.
Keep the windows open a crack so you stand less chance of being poisoned by carbon monoxide. Check the tail pipe periodically and clear it if necessary to keep the exhaust from coming back into the vehicle.
Hopefully, all of the suggestions will lead to lives being saved and people making it home safe this winter.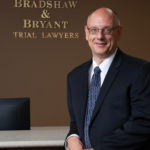 A founding partner with Bradshaw & Bryant, Mike Bryant has always fought to find justice for his clients—knowing that legal troubles, both personal injury and criminal, can be devastating for a family. Voted a Top 40 Personal Injury "Super Lawyer"  multiple years, Mr. Bryant has also been voted one of the Top 100 Minnesota  "Super Lawyers" four times.