I came upon a startling story from 20/20 that should be required watching for everyone who uses tires.
http://www.youtube.com/watch?v=1-JDPgO_1rA&feature=player_embedded
If you take the time and follow up by checking your tires, you could save your or a family member's life.
Checking the tire:
Before 2000, the date code had three digits. Since 2000, it has had four. The first two digits are the week of the year (01 = the first week of January). The third digit (for tires made before 2000) is the year (1 = 1991). For most tires made after 2000, the third and fourth digits are the year (04 = 2004).
In the photo above, the date code is 8PY806. The 8PY is a manufacturing shift code, and the date the tire was actually made was 0806, which is the 8th week (08)in the year 2006 (06).
Take the time to watch the story and then go out and check those tires.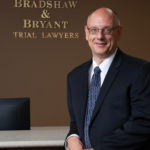 A founding partner with Bradshaw & Bryant, Mike Bryant has always fought to find justice for his clients—knowing that legal troubles, both personal injury and criminal, can be devastating for a family. Voted a Top 40 Personal Injury "Super Lawyer"  multiple years, Mr. Bryant has also been voted one of the Top 100 Minnesota  "Super Lawyers" four times.