This past week, the Minnesota Department of Public Safety released it's list of the most deadly counties due to drunk driving. They are: Anoka, Carver, Dakota, Hennepin, Itasca, Olmsted, Ramsey, Rice, St. Louis, Scott, Stearns, Washington and Wright.
Carver, Itasca, and Wright are new additions to the list, replacing the counties of Blue Earth, Otter Tail and Sherburne.
These counties (out of a total of 87) accounted for more than half of the state's alcohol-related deaths (254) and half of the state's serious injuries (506) during 2007-2009.
From 2007-09, Stearns County has had 11 alcohol-related traffic deaths and 20 alcohol-related injuries.
"Extra enforcement campaigns have helped the state hit record low alcohol-related death numbers,"says Cheri Marti DPS Office of Traffic Safety director. "While impaired driving remains a statewide threat, we can best address the brunt of the issue by focusing resources on sustained campaigns in areas that have had the highest numbers of life-ending and life-changing crashes."
The press release from the Minnesota Department of Public Safety went on to say:
In the last five years, 2006–2010, more than 1,320 DWI enforcement efforts in the state's 13 targeted counties resulted in 172,517 traffic stops, generating 11,394 DWI arrests — one arrest for every 15 stops — and 74,347 traffic citations. In all, more than one-half million Minnesotans have a DWI on record, translating to one in seven Minnesota drivers.

The National Highway Traffic Safety Administration cites Minnesota as a DWI enforcement model due to successful agency partnerships and through "high-visibility" enforcement efforts. These campaigns employ saturated patrols along a select corridor, electronic signage and officer gear. High-visibility enforcement generates motorist and community awareness of the extra patrols, and as a result, encourages motorists to make safe plans to avoid driving impaired.

###

Editor's note: Download EPS or PDF county maps that plot the locations of alcohol-related deaths; a history of the targeted counties since 2002; and graphic at: https://mndeptpublicsafety.sharefile.com/d/s8b01609fee94c189
The 13 counties will see extra DWI enforcement on Wednesday, Thanksgiving Eve.
Beyond that, the State Patrol will partner with county and local law enforcement agencies to conduct increased patrols through Sept. 30, 2011. The enforcement is backed by $2.75 million in federal funds.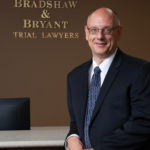 A founding partner with Bradshaw & Bryant, Mike Bryant has always fought to find justice for his clients—knowing that legal troubles, both personal injury and criminal, can be devastating for a family. Voted a Top 40 Personal Injury "Super Lawyer"  multiple years, Mr. Bryant has also been voted one of the Top 100 Minnesota  "Super Lawyers" four times.