Stay alive and drive when you are behind the wheel.  One of the ways to do that is to stay off the phone.   The Minneapolis Tribune had examples that included :
The victims include a 23-year-old highway construction worker in Washington state, a 13-year-old Michigan boy riding in his older sister's car and a Minnesota school bus driver picking up the morning newspaper in front of his home.

All were killed in recent years by distracted drivers who had been texting or otherwise looking at their phones.
This is horribly sad.   But the story goes on to point out:
Yet none of the drivers responsible for those deaths has been ordered to spend more than a few days in jail.
Basically the penalties aren't keeping up with the increased number of people that are being hurt or killed.  The numbers support that there are increase in people using phones on the road  and they are causing collisions.  Specifically :
"Sending or reading a text message can take the driver's eyes off the road for an average of 4.6 seconds," the publication says. "At 55 miles per hour, the vehicle will travel the length of a football field without any visual guidance."
This topic is a big one here at the Legal Examiner:
Texting is Killing Our Teens, Mike Bryant | May 28, 2013 9:38 AM
April is Distracted Driving Awareness Month in Texas Too, Jeff Weinstein | April 02, 2012 11:34 PM
Cell Phone Use and Driving – A Deadly Combination, Jeff Weinstein | April 02, 2012 5:50 PM
Simple Q for Teens – Ask them how many Text Messages they send a Month, Jeff Weinstein | March 28, 2012 11:49 AM
Should We Just Shut Off The Cell Phones and Drive?, Mike Bryant | January 13, 2012 9:01 AM
Stops The Texts Stop The Wrecks Mike Bryant | November 25, 2011 9:04 AM
Texting and Driving: Do You Know how Dangerous it is?, Mike Bryant | November 07, 2011 9:33 AM
Texting and Walking Can Be Dangerous,Mike Bryant | September 14, 2011 9:09 AM
Driving While Distracted? It Causes Deaths. Mike Bryant | August 18, 2011 9:52 AM
Want to Text and Drive? Watch this First., Mike Bryant | July 11, 2011 9:19 AM
Real Life Reasons Not to Text and Drive, Mike Bryant | April 26, 2011 9:37 AM
Texting – More Deadly than Drunk Driving?, Joe Crumley, September 22, 2009 7:01 AM
Study Shows Texting While Driving Highly Dangerous, Rick Shapiro, July 29, 2009 8:00 PM
Texting By Drivers Proven to Be Extreme Hazard, Mark Williams, July 28, 2009 5:41 PM
Ignoring the Dangers of Texting While Driving May Lead to Serious Consequences, Will Parker July 30, 2009 4:53 PM
Texting and Driving – More Deadly than Drinking and Driving?, Jeremy Thurman, September 20, 2008 3:18 PM
It is so important that we convince ever drivers that, like wearing seatbelts, we need to do everything to be safe on the roads.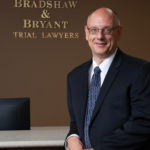 A founding partner with Bradshaw & Bryant, Mike Bryant has always fought to find justice for his clients—knowing that legal troubles, both personal injury and criminal, can be devastating for a family. Voted a Top 40 Personal Injury "Super Lawyer"  multiple years, Mr. Bryant has also been voted one of the Top 100 Minnesota  "Super Lawyers" four times.