There have been so many posts about distracted drivers here at the Injuryboard. Some are just warnings. Some have included the video of the young girl who is texting and ends up on the windshield. Others have been the real life stories of what happens when people have been distracted while driving. It's likely that many drivers don't tell the truth, with Department of Transportation's studies indicating that up to 80% of crashes may be caused by distracted drivers, there may be so many more happening that we don't find out about. Throw in that in 2008, 800,000 vehicles on any given day are being driven by somebody using a cell phone, and you have a lot of reasons why there are car crashes.
Do you take this for granted ? Still keep using the cell phone? Make driving the second or third most important thing you are doing? Figure that you are some how different then everyone else? Take a second and watch this video:
http://www.youtube.com/watch?v=0AHGLGQgAn8&feature=player_embedded
I at one time didn't think seat belts were all that important. Freedom, invulnerable, and young and dumb all came into my head. The day my oldest was born I vowed I would always wear one for him. Watching this video, I think that I personally need to do more than that. Hopefully, many others well do so as well.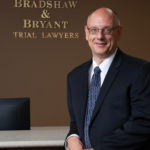 A founding partner with Bradshaw & Bryant, Mike Bryant has always fought to find justice for his clients—knowing that legal troubles, both personal injury and criminal, can be devastating for a family. Voted a Top 40 Personal Injury "Super Lawyer"  multiple years, Mr. Bryant has also been voted one of the Top 100 Minnesota  "Super Lawyers" four times.