Saturday evening, a head on collision in Lakeville killed three. The head on was between a truck driven by a 17-year-old and a car on Kenwood Trail between Jaguar and Ipava Avenues. The three that died were in the car. The large pickup truck was without lights, crossed the center line, and slammed head-on into the smaller car, according to the State Patrol.
This death, was the fifth reported highway death this past weekend. The tragedy comes two months after the Minnesota Department of Public Safety (MDPS) reported that overall the number of highway deaths has been down for 2009 with more than 300 people having died this year in Minnesota traffic collisions. There were 458 deaths in 2008, which was a drop from 510 in 2007.
As with any death in a Minnesota motor vehicle collision, there are many issues that will need to be reviewed. My partner, Joe Crumley, addressed this topic in a recent article for the Minnesota Lawyers Trial magazine. I was interviewed last year on the same topic. In this accident sorrow for the families and friends of those involved goes out.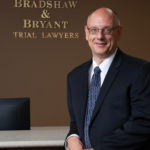 A founding partner with Bradshaw & Bryant, Mike Bryant has always fought to find justice for his clients—knowing that legal troubles, both personal injury and criminal, can be devastating for a family. Voted a Top 40 Personal Injury "Super Lawyer"  multiple years, Mr. Bryant has also been voted one of the Top 100 Minnesota  "Super Lawyers" four times.