Sponsored annually by the Department of Public Safety Division of Homeland Security and Emergency Management (HSEM), last week was Winter Awareness Week. Each day was devoted to a different topic concerning winter safety. To help with the effort, cities across the state are holding forums, providing daily winter safety tips and publicizing the effort in local newspapers and on city websites.
The week is broken down as:
Driving snowmobiles safely and responsibly to prevent crashes:
Learn how to use it correctly and safely. Classes are offered throughout the state; contact your local DNR office or snowmobile dealer to find a class near you.
Make sure your snowmobile is in good working condition.
Obey the posted speed limit on Minnesota's snowmobile trails.
If you are involved in a crash, follow these steps to ensure that you will receive all the insurance benefits to which you are entitled:

If people are injured, follow the rules of first aid, summon medical help and law enforcement, and describe to them exactly what happened.
Call your insurance agent, no matter where you are or who caused the crash. Ask what forms or documents you need to support your claim. Your company may require a proof of loss form, as well as documents relating to your claim, such as medical and auto repair bills and a copy of the police report.
Ask the officer where you can get a copy of the accident report. You may need it to support your claim with the insurance company.
Protect your snowmobile from further damage at the scene. If you need to have it towed, remember that the claims adjuster must look at it before it's repaired to correctly assess the extent of the damage.
Take notes. Write down the names and addresses of everyone involved in the crash, as well as witnesses. Also get the names and badge numbers of law enforcement and emergency personnel on the scene. Note identifying characteristics of all vehicles involved, including make, model, and registration number.
Identifying the reason behind the week the HSEM press release identified the issues:
Over the last 10 years, more than 50 people drowned after falling through thin ice, and 65 percent of ice drownings were vehicle related. Last winter, 22 people died in snowmobile accidents; half those fatal events involved alcohol or drug use. And during 2005–2007 in Minnesota, officers reported snow or icy road conditions in nearly 41,000 crashes that resulted in 159 deaths and 13,000 injuries. Clearly, people are being "surprised" by weather conditions."
The plan is, no matter how harsh the winter, to make sure everyone is safe and alive at the end of it.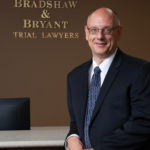 A founding partner with Bradshaw & Bryant, Mike Bryant has always fought to find justice for his clients—knowing that legal troubles, both personal injury and criminal, can be devastating for a family. Voted a Top 40 Personal Injury "Super Lawyer"  multiple years, Mr. Bryant has also been voted one of the Top 100 Minnesota  "Super Lawyers" four times.