This past Monday there were two real world examples of why not to drink and drive:
A 42 year old Minneapolis woman was charged on Monday with three counts of criminal vehicular operation and three counts of criminal vehicular homicide for a Dec. 5 crash which killed a unborn child, injured her mother and five siblings aged 3 to 10 years old. Her blood-alcohol content level was later tested at 0.17. The Minneapolis Star Tribune reported:
Slumped in the driver's seat, her eyes bloodshot and watery, Connie Ann Stroud tried to explain why she had just driven the wrong way down a freeway exit ramp: "I'm drunk. I'm sorry," she said, according to court documents.
A 37 year old Farmington man was charged in Dakota County District Court with drunken driving, child endangerment, and criminal vehicular homicide after a Christmas Eve wreck that killed an 88-year-old Prior Lake man. The charged driver had his 9-year-old son into the vehicle with him.
Hopefully, in each of these cases the families will see justice. As the Tribune quoted "This crash is an example of how driving under the influence of alcohol just greatly increases the risk to everyone on the road," said Lakeville Police Chief Tom Vonhof. "Over the holidays, make sure that you do not drink and drive."
Recent research indicates that deaths involving motor vehicles are down in Minnesota, but deaths linked to drinking and driving have also increased. The rules are simple and must always be followed:
Don't Drink and Drive
Use designated drivers
Always remember that the more you drink, the more your odds of making bad choices increase.
As drivers on the road: It's also worth keeping in mind, the deadliest roads in Stearns county to try to stay away from at night.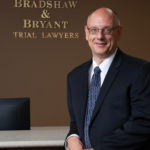 A founding partner with Bradshaw & Bryant, Mike Bryant has always fought to find justice for his clients—knowing that legal troubles, both personal injury and criminal, can be devastating for a family. Voted a Top 40 Personal Injury "Super Lawyer"  multiple years, Mr. Bryant has also been voted one of the Top 100 Minnesota  "Super Lawyers" four times.