From time to time, there are instances when you read about car accidents that start on the road but end with one or more of the cars lstopping in deep water. Usually, it's when they take place near a lake and the speed launches the vehicle off the road. I looked at one of those in the past:
I-94 Spin Out Leads To Drowning Of A Driver, Mike Bryant | December 13, 2009 9:46 PM
Fairwarning, which is a blog that everyone should read, had some interesting suggests concerning what to do if this happens to you:
1. Brace yourself for impact as soon as you know you're going into the water. Do this by placing both hands on the steering wheel to prepare for possibility the airbag will inflate.

2. Unbuckle your seatbelt. You will improve your chances of escaping by being able to move around the vehicle.

3. Unbuckle the children, starting with the oldest, who can help with the others.

4. Open a window, either electronically (if you have power windows) or manually (if you don't).

5. If you can't open the window, break it. If you don't have a glass-smashing tool or heavy object handy, use your feet.

6. Swim out through the window as soon as you have broken it.

7. If you are unable to open a window or break it, let the car begin filling with water. When the water pressure inside the car is equal to the pressure outside the car, you should be able to open a door.

8. Stay calm. Repeat Giesbrecht's S-C-W-0 mantra (Seat belt-Children-Window-Out).
The last one may be the difference maker. We've represented so many people that talk about the suddenness of a collision. Hopefully, a level headed response will make sure a collision doesn't become a greater tragedy.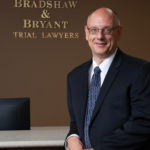 A founding partner with Bradshaw & Bryant, Mike Bryant has always fought to find justice for his clients—knowing that legal troubles, both personal injury and criminal, can be devastating for a family. Voted a Top 40 Personal Injury "Super Lawyer"  multiple years, Mr. Bryant has also been voted one of the Top 100 Minnesota  "Super Lawyers" four times.