October is historically the most dangerous time for pedestrians each year. However, this year the numbers are of great concern. The result has been city officials looking at technology to improve safety.
The Minneapolis Tribune reported:
From Brooklyn Center to Becker, almost a dozen cities are melting asphalt and brightly colored plastic in distinct markings stamped into the pavement. More cities are installing countdown timers that let pedestrians know how much time they have to safely cross. And Edina is one of the few cities in the Midwest with blinking orange lights embedded in a street to catch drivers' eyes.
What is interesting is that there is a debate that has come up about these safety changes. State experts have suggested the improvements may not help because they provide pedestrians with a false sense of safety. That seems odd to me, because all of the improvements are done to better identify a crosswalk. How is more people suddenly being directed to its existence not going to help?
I am sure that there will still be situations where pedestrians will be hit, but unfortunately nothing is going to totally eliminate injuries. The goal has to be to increase information, heighten awareness, and keep more people safe. Perhaps, looking at what has happened since Hawaii made it's changes.
The Hawaii Pedestrian Crosswalk Safety Chronicles: Innovative Solution for Crosswalk Safety, Wayne Parsons | May 06, 2009 2:39 PM
I have written in the past about the importance of following the law:
Two Signs That will Save Lives, Mike Bryant | May 01, 2012 9:35 AM
Hopefully, the new improvements will make a difference. Drivers and pedestrians will pay attention and make sure they follow the law.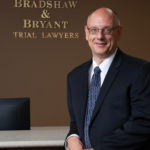 A founding partner with Bradshaw & Bryant, Mike Bryant has always fought to find justice for his clients—knowing that legal troubles, both personal injury and criminal, can be devastating for a family. Voted a Top 40 Personal Injury "Super Lawyer"  multiple years, Mr. Bryant has also been voted one of the Top 100 Minnesota  "Super Lawyers" four times.