Reviews of people without insurance, but have applied for coverage, find that what happens in most cases is:
Denial
Very high rates
Coverage with exclusions
The last two options can get people coverage, but often are unrealistic or don't help with the preexisting issues that the person has. CNN provided a list of other ideas that have to be considered:
1) Look at the possibility of creating a company that could qualify for a group policy-
To find out whether your state will allow you to become a group of one, see this list from the Kaiser Family Foundation (look at the column headed "Definition of Small Group," and look for "1-50").

For more information on becoming a group of one, see this advice from the American Diabetes Association.

In states where you can't become a group of one, you can become a group of two.
2) Apply for Cobra if you are laid off
3) Apply for State coverages within 63 days of losing coverages.
In all states, a designated insurance company — charmingly called "the insurer of last resort" — has to take "all comers" in insurance lingo. You have to apply for this insurance within 63 days of losing your group insurance. For all the rules, read this explanation from Families USA (scroll down and look for the "HIPAA eligible" heading).
4) Look for State high risk pools.
Thirty states have high-risk pools, insuring 175,000 people, according to the American Diabetes Association, which lists the states on its Web site.
5) See if any of the groups you are in have coverage.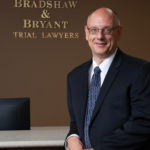 A founding partner with Bradshaw & Bryant, Mike Bryant has always fought to find justice for his clients—knowing that legal troubles, both personal injury and criminal, can be devastating for a family. Voted a Top 40 Personal Injury "Super Lawyer"  multiple years, Mr. Bryant has also been voted one of the Top 100 Minnesota  "Super Lawyers" four times.