I first saw this list when Injuryboard member Timothy Smith originally answered these questions. His answers demonstrate a lawyer that people in his area should be talking to when they are injured. As Tim explained:
Lay people sometimes have a tendency to see lawyers as a sort of multi-function tool. As though any lawyer has the training and skill to perform any needed task. In fact, the legal world is highly specialized, and just as one would not go to a dermatologist for open heart surgery, one should seek appropriate counsel for specialized legal tasks. Traumatic brain injuries often call for an attorney with a specialized legal skill-set. Some clients who have survived a brain injury need an attorney family law, estate planning, or even criminal law experience. With an eye toward these concerns, the BIAA has presented a brief guide to selecting appropriate counsel for brain injury survivors.
These are questions that you or your family should be asking a potential lawyer. Here is how my firm would answer these questions:
Who else in your practice would you involve in my case? What role(s) would these people have? Describe their background and expertise. You would have 4 different attorneys working on your case – together- as a team. My background includes 20 years representing individuals with brain injuries, and my partner Joe Crumley has 24 years. In addition to our associate attorneys, we also work with seven paralegals, all of whom have experience working with brain injured clients and their families. Two of them have been with the firm for over 30 years and have attended seminars and conferences on the topic. Both Joe and I have been elected President of the Minnesota Association for Justice. Our web site contains more details on our qualifications.
Who will be my primary contact with your practice? Either I or Joe will always be the primary contact and you will be able to contact us by phone or email 24/7.
Are you or your law firm able and willing to advance as much as $50,000 in the investigation, preparation and presentation of my case? Yes, we will spend what is necessary in your representation, but will not waste money. Costs are all amounts that we pay outside of the office for things like investigation, experts, medical records and reports. We will hire the necessary experts to help prove your case. We have spent substantial amounts in cases in order to insure the best possible representation.
How much of your practice is devoted to personal injury? Joe practices 100% in personal injury. I still do a little bit of criminal defense.
Of your personal injury cases, how many are devoted to brain injury? I would estimate that approximately 20% of our current files involve a brain injury. We have taken over cases from other attorneys or with poor early medical care found that the injury was never asked about or recognized. Thus, we have established a procedure to always be on alert for these type of injuries.
What results have you achieved? The firm holds the top rating or [AV] from Martindale-Hubbell. I have been a top 100 and top 40 personal injury "Minnesota Super Lawyer" by Minnesota Law and Politics magazine on multiple occasions. Joe has been a Super Lawyer and has collected the top settlement for Minnesota and eastern Wisconsin for a motorcyclist with a brain injury.
What have you worked on in the past six months? The last six months each of us has worked on significant brain injury cases. We also have taught seminars and written articles for the Minnesota Association for Justice.
What special training or education do you have specific to brain injury or benefits that people can get after brain injury. The experience of representing injured people across Minnesota for a number of years. We have also attended many medical and legal training seminars on the subject. Joe and I continue to share experiences with other lawyers and doctors in this field through teaching and lecturing.
What is your involvement with legal associations, local, state or national brain injury associations or other organizations? We have each dealt with the brain injury organizations as we have represented brain injured clients. Our involvement with the Minnesota Association of Justice, our trial lawyers association, is unmatched. Joe and I have spent a great deal of time in all aspects of the association, culminating in our respective presidencies.
How do you stay up to date with personal injury law and brain injury issues? We read the medical literature, attend ,and teach continuing education courses and also learn much through the continued representing of clients. We talk to experts and treating physicians almost daily.
How did you first become involved in brain injury cases? As with most of what we do, it started with the representing of a client. Early in my career, I helped John Bradshaw, my boss at the time, represent a brain injured person. John went to a conference in Texas and came back with loads of material which he turned over to me. I spent a lot of time researching and reviewing this literature, and that was my start representing brain injured folks.
The lawyer you hire will and can make a difference. The key is asking the right questions and looking for a firm with the experience and caring to represent you properly.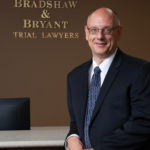 A founding partner with Bradshaw & Bryant, Mike Bryant has always fought to find justice for his clients—knowing that legal troubles, both personal injury and criminal, can be devastating for a family. Voted a Top 40 Personal Injury "Super Lawyer"  multiple years, Mr. Bryant has also been voted one of the Top 100 Minnesota  "Super Lawyers" four times.