The Congressional Budget Office released a report this past month that found: wait for it, that if we had tort reform money will be saved. Shocking, if you stop making the negligent and the grossly negligent pay for the damage they do, they get to keep their money. Those reports don't surprise me , nor do they scare me as a trial lawyer. Because, the question keeps going back to: saves money for whom?
The only way you get savings from the system is at best indirect. That the Medical Malpractice Insurance companies will do something that they have in the past been reluctant to do, which is lower premiums, and as a result, those savings will be passed on to the health Insurance companies, who will then pass those savings onto the consumers. The other potential savings will be that all of these doctors who are prescribing unnecessary and fraudulent tests will stop doing this and there will be savings there. This is a lot of very questionable gate keepers who we are expecting to do the right thing for others and not just for themselves.
But let's look at the CBO's numbers. Surprise, they are exactly what trial lawyers have been saying; one half of one percent of the whole system. Yes, this is the shocking number that some Republicans are claiming can be used to fix the whole medical reform mess. Now, I'll admit that 11 billion dollars is a lot of money, but what does it compare to?
There is the report from Washington University, which found that in 2007 there was $2.7 trillion (yes that's a trillion) spent on health care overall. So to start with, we are really talking about numbers that need to be compared, and not just blow horned by town meeting paid infiltrators.
The same report found that there is also $68 billion that is lost in fraud. That number works out to the fraud being 80% by the medical providers ( the ones that we want to give the savings back), 10% by consumers, and balance by others such as the insurance companies themselves.
Let's look at the Insurance numbers as the American Association for Justice did recently,they found:
Today, while premiums and health care costs skyrocket, malpractice insurers have average profits higher than 99 percent of Fortune 500 companies.

The key findings of the report, which analyzes the annual financial statements of the 10 largest U.S. medical malpractice insurers, include:

The average profit of these insurance companies is higher than 99 percent of all Fortune 500 companies and 35 times higher than the Fortune 500 average for the same time period.

Malpractice insurers have seen their profit margins range from 5.9 percent to 74.8 percent, with an average of 31.2 percent.

Medical malpractice insurers have underestimated profits and overestimated losses, creating overblown insurance "crises" to garner support for limiting patients' legal rights. Then years later after the "crises" abated, revised filings show the companies were never in the financial peril they claimed.

After overestimating losses, insurers have since reported that losses over the last five years have been approximately 13.5 percent lower than initially reported.

By overestimating losses, companies have underestimated profits. Insurers averaged about 5.1 percent higher profits last year and 12.4 percent higher profits two years ago; these levels of profits will likely rise as upward revisions are made.

Medical negligence laws were passed under false pretenses. Overblown reported losses were used by the insurance industry to justify new measures restricting the rights of those injured by medical negligence.
Yep, there is gobs of money being made, and I would bet they are funneling right into those U S Chamber ads that are calling for tort reform and fighting against a system they just love to gouge.
There are far better ways to fix this system and to pay for it without changes that deny people their constitutional protections.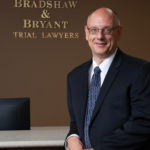 A founding partner with Bradshaw & Bryant, Mike Bryant has always fought to find justice for his clients—knowing that legal troubles, both personal injury and criminal, can be devastating for a family. Voted a Top 40 Personal Injury "Super Lawyer"  multiple years, Mr. Bryant has also been voted one of the Top 100 Minnesota  "Super Lawyers" four times.