Mary Alice McLarty is a trial lawyer who I am privileged to know from Texas. She is currently the President of the American Association for Justice. I have known her to always be an advocate for her clients, but in her new role she has become an advocate for all consumers.
This past week she has an op ed piece at CNN Health. The piece talked about the issues surrounding medical malpractice and the reasons that reform is a very bad idea.
The information she has in the piece is some of the stuff many of us here at the Legal Examiner have talked about at times, but it also has the personal touch because she could personally talk about what had been done in Texas:
Let's use my home state of Texas to see how eliminating the rights of patients — or "tort reform" — does not work for patients or doctors, or consumers.

In 2003, Texas passed Proposition 12, which severely limited the rights of patients by placing a $250,000 cap on non-economic damages and giving extensive immunity to emergency room doctors.

Children, stay-at-home moms, and the elderly have been disproportionately impacted by this law because often they do not have substantial economic losses (i.e., lost wages or salary) from medical injuries, but their quality of life has been substantially, even permanently, diminished.

If limiting injured patients' rights actually reduced unnecessary tests and costs, Texas should have significantly lower health care costs than other states, however Texas has some of the highest health care costs and highest number of uninsured people in the country.

In fact, health care costs in Texas have increased at a higher rate than anywhere else in the country, according to a study from the University of Illinois and the University of Texas.

Not only has the cost of health care not decreased, but the quality of care has not improved either. In July 2011, the federal Agency for Health Care Research and Quality ranked Texas health care the worst in the nation.
This experiment has been a failure and is not any kind of model to follow.
There are a lot of voices out there with big money who want to hide from responsibility and cap their damages. This piece is a great example on why those plans are wrong and unconstitutional.
Hopefully, this message will get to each consumer before they lose these vital rights.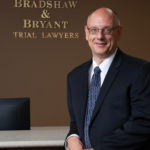 A founding partner with Bradshaw & Bryant, Mike Bryant has always fought to find justice for his clients—knowing that legal troubles, both personal injury and criminal, can be devastating for a family. Voted a Top 40 Personal Injury "Super Lawyer"  multiple years, Mr. Bryant has also been voted one of the Top 100 Minnesota  "Super Lawyers" four times.