Each of the three branches of government have looked at the new healthcare plan and passed it in the manner that their branch does. Despite this, the fight continues. The latest rally cry is repeal and replace. The question is where have you been and what do you got?
Think about all the years that there could have been health bills and no one got one passed. In fact, most of the time no one came forward with an idea.
Think about the legislative fight and what little was brought forward as alternative options.
Think about all of the opportunities that each of these complainers had to do something and check the record for their lack of action on any type of legislation.
So ask them when they talk of repeal, why they should be believed now that they have any sort of plan? Push further and ask what is that plan?
Because, the key to their position is that they have some option for replacement. It is expected that you will get a bunch of mumbling or bad ideas like the ones Michele Bachmann Tweeted about last week:
So what do we have here?
First- Tim Pawlenty's favorite idea that people should buy coverage that is governed under another state's laws. Yep, I'm sure that Mississippi or Texas is going to protect it's citizens the way Minnesota does. You basically will be buying garbage.
Second- A tax break. So that those of us who have coverage can now get coverage that replaces or lessons our taxes. That sounds like the government paying for the insurance doesn't it or another tax break for those who don't really need it? It also ignores the way businesses bought insurance, like I have for my employees. But, it is fun tax rhetoric.
Finally, it's the old jewel of tort reform. Let's forget that tort reform hasn't worked to reduced costs. Forget that it really is an odd way to address the issue of health insurance and ask the real question about why would they ignore the Constitution and the 10th Amendment and use it as a replacement for a plan that they say is what? I think they often call it unconstitutional. So they are replacing their unconstitutional favorite with the one they don't like. Seems like they really don't mind something being unconstitutional.
Actually, it's a fight that leaves the uninsured consumer out of the constitution because it's all just a bunch of political rants without any real idea to a plan. The present system isn't perfect. However, it would go a long way if those elected really worked for those they were claiming they want to insure.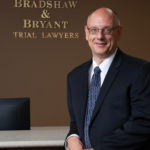 A founding partner with Bradshaw & Bryant, Mike Bryant has always fought to find justice for his clients—knowing that legal troubles, both personal injury and criminal, can be devastating for a family. Voted a Top 40 Personal Injury "Super Lawyer"  multiple years, Mr. Bryant has also been voted one of the Top 100 Minnesota  "Super Lawyers" four times.