I've written a number of times about what the issues should be at the heart of the health care debate: making sure more people have insurance, helping businesses that are being crushed by insurance costs, and most importantly, making sure we have good care. Of course, to do these things we have to talk about how to pay for them. But, I've been watching the debate for a week now, and continue to see opposition speakers get up and ignore the consumer. You can't be surprised, considering so many of them have been there for a long time and for the most part never even brought up the health care issue.
Instead it has been a stream of classic Bush/Rove attacks against the lawyers. Today, Sen. Ensign offered an amendment which would limit contingency fees in medical malpractice lawsuits to 33% of the first $150,000 of the total amount recovered by judgment or settlement, and 25% of any amount recovered in excess of the first $150,000 recovered by such judgment or settlement. The amendment also calls for the periodic payment of successful judgments.
Who does this bill help? Less people would be able to bring meritorious claims and the liability insurance companies would save money. Bad doctors could keep making money or at least feel safer in their malpractice work. The defense could spend all the money they want and delay more claims. And when a jury says they are supposed to pay, they get more time and a payment plan to do it. How does this make sense to anyone?
This idea doesn't even directly save the system money. The proponents argue indirect savings, but every such argument has been shown to be inaccurate:
Saving through the reduction of defensive medicine:
Tort Reformers Ask: "What? You asked for an X-ray!" Bah! Humbug!,Steve Lombardi, October 19, 2009 10:14 AM
Saving of reduced junk law suits:
Isn't Tort Reform Only About Frivolous Cases?, Wayne Parsons , October 25, 2009 2:08 PM
Savings through better care:
Health care Reform Must Put Patients First Because Medical Errors Happen All Too Often, Christopher Nace, November 16, 2009 10:00 AM
The shining example of Texas:
Straight Talk on Tort Reform from Texas, Bret Hanna , November 23, 2009 11:20 PM
The contingent fee system is only way that many Americans have any chance of being allowed the "key to the courtroom." People who have already suffered an injury, have medical bills and no income can only fight when they have the backing and support to do so. It is a protection that helps fulfill the basics of the 7th Amendments and protects vital consumer protections.
93,000 people die each year from medical errors. This amendment does nothing to make things safer. It does nothing to insure people have a remedy when wronged. Most of all it does nothing to deal with the real issues of the health care debate.
When the amendment comes up this afternoon, it needs to be stopped.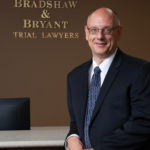 A founding partner with Bradshaw & Bryant, Mike Bryant has always fought to find justice for his clients—knowing that legal troubles, both personal injury and criminal, can be devastating for a family. Voted a Top 40 Personal Injury "Super Lawyer"  multiple years, Mr. Bryant has also been voted one of the Top 100 Minnesota  "Super Lawyers" four times.