This past week, the Center for Science in the Public Interest released the list of foods that have the most reported food illnesses. Unfortunately, they may be most people's favorites. This may mean a couple of things:
– All foods can make us sick
– That we don't do a very good job of preparing the foods we eat
– That the more mass produced a food product is, there may be more risks in those processes.
They found that since 1990 the top ten list was:
leafy greens were involved in 363 outbreaks and about 13,600 illnesses.
Eggs, involved in 352 outbreaks and 11,163 reported cases of illness.
Tuna, involved in 268 outbreaks and 2,341 reported cases of illness.
Oysters, involved in 132 outbreaks and 3,409 reported cases of illness.
Potatoes, involved in 108 outbreaks and 3,659 reported cases of illness.
Cheese, involved in 83 outbreaks and 2,761 reported cases of illness.
Ice cream, involved in 74 outbreaks and 2,594 reported cases of illness.
Tomatoes, involved in 31 outbreaks and 3,292 reported cases of illness.
Sprouts, involved in 31 outbreaks and 2,022 reported cases of illness.
Berries, involved in 25 outbreaks and 3,397 reported cases of illness.
The problems were mostly caused by norovirus, E. coli, and salmonella bacteria. Unfortunately, Smith DeWaal the CSPI's head of food safety programs, called the list "the tip of the iceberg" when it comes to food-borne illnesses in the U.S. Because, not all outbreaks are reported to public health authorities.
How do you protect yourself? Sarah Klein, lead author of the report recommends "defensive eating," including keeping food cold and cooking it thoroughly, chilling oysters and avoiding them when raw, and avoiding raw eggs or using them in homemade ice cream.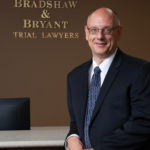 A founding partner with Bradshaw & Bryant, Mike Bryant has always fought to find justice for his clients—knowing that legal troubles, both personal injury and criminal, can be devastating for a family. Voted a Top 40 Personal Injury "Super Lawyer"  multiple years, Mr. Bryant has also been voted one of the Top 100 Minnesota  "Super Lawyers" four times.