Today is a great day to do something healthy. Take part in the Great American Smokeout.
In 1977, Berkeley, California became the first community to limit smoking in restaurants and other public places.
In 1983, San Francisco passed the first strong workplace smoking restrictions, including bans on smoking in private workplaces.
In 1990, the federal smoking ban on all interstate buses and domestic flights of six hours or less took effect.
In 1994, the state of Mississippi filed the first of 24 state lawsuits seeking to recuperate millions of dollars from tobacco companies for smokers' Medicaid Bills.
In 1999, the Department of Justice filed suit against cigarette manufacturers, charging the industry with defrauding the public by lying about the risks of smoking.
In 1999, the Master Settlement Agreement (MSA) was passed, requiring tobacco companies to pay $206 billion to 45 states by the year 2025 to cover Medicaid costs of treating smokers. The MSA agreement also closed the Tobacco Institute and ended cartoon advertising and tobacco billboards.
In 2009 "The Family Smoking Prevention and Tobacco Control Act" was signed into law and gives the FDA the authority to regulate the sale, manufacturing, and marketing of tobacco products and protects children from tobacco industry's marketing practices..
According to the American Cancer Society, if you quit smoking, you can add about ten more birthdays to your life. Smoking accounts for $193 billion dollars worth of health care expenditures and productivity losses. 40% of nonsmokers are exposed to secondhand smoke, and 443,000 deaths , including more than 49,000 deaths of non-smokers each year are attributed to smoking and secondhand smoke.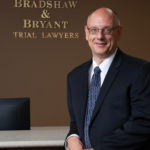 A founding partner with Bradshaw & Bryant, Mike Bryant has always fought to find justice for his clients—knowing that legal troubles, both personal injury and criminal, can be devastating for a family. Voted a Top 40 Personal Injury "Super Lawyer"  multiple years, Mr. Bryant has also been voted one of the Top 100 Minnesota  "Super Lawyers" four times.