Every year, there are nearly 18,000 new cases of spinal cord injury (SCI) around the country. On average, motorcycle accidents are responsible for almost 7 percent of them, or more than 1,000 SCIs annually.
If you or someone you love is among these cases, your family may be entitled to compensation for the associated damages. In order to collect a payout, though, you will need evidence of liability, causation, and damages. You will also have to navigate the legal proceedings without making critical missteps along the way.
Let's take a look at some of the most frequently asked questions about the process so you know what expect when building your motorcycle accident claim:
1. How Can I Prove Fault for the Motorcycle Accident in Which I Was Hurt?
Naturally, the strongest evidence of liability will depend on the circumstances of the crash. Evidence that might help you prove fault includes:
• Photographs of the wreckage;
• Statements from eyewitnesses;
• The official police report;
• Toxicology reports;
• Cell phone records;
• Dash cam or helmet cam footage;
• Recordings from surveillance cameras near the scene; and
• Vehicle maintenance records.
2. What Kinds of Damages Should I Be Tracking over the Course of My Recovery?
Motorcycle accident claims involving spinal cord injuries tend to yield sizable settlements and verdicts because SCIs cost so much to diagnose, stabilize, and rehabilitate. SCIs usually leave patients with some degree of paralysis, as well, which can cause both the economic and non-economic damages to skyrocket.
If you or someone you love is recovering from a spinal cord injury, make sure to track the following losses so you can include them in the settlement calculations:
• Hospital bills;
• Home care;
• Reasonably necessary home and vehicle modifications;
• Domestic help;
• Child care;
• Lost wages and benefits;
• Loss of earning capacity;
• Pain and suffering;
• Loss of enjoyment in life; and
• Mental anguish.
In addition to the damages listed above, your spouse may be entitled to compensation for loss of consortium. This refers to the loss of love, companionship, and sexual intimacy that he or she must endure as a result of your SCI.
3. How Long Do I Have to Take My Motorcycle Accident Claim to Court?
It's not uncommon for insurers to challenge claims involving SCIs because the injured parties are usually seeking hefty payouts. Should the insurance adjuster refuse to offer a fair settlement, you may have no choice but to file a formal lawsuit.
In the state of Minnesota, the standard statute of limitations for personal injury suits is six years. If you intend to take action against a government entity, though, you must submit written notice within just 180 days of the accident.
Call 320-259-7008 for a Free Consultation with a St. Cloud Motorcycle Accident Attorney
If you sustained catastrophic injuries in a motorcycle accident, turn to Bradshaw & Bryant to determine the most strategic way to proceed. Call 320-259-7008 or fill out our Contact Form to schedule a free consultation with a motorcycle accident lawyer in St. Cloud.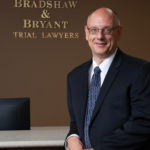 A founding partner with Bradshaw & Bryant, Mike Bryant has always fought to find justice for his clients—knowing that legal troubles, both personal injury and criminal, can be devastating for a family. Voted a Top 40 Personal Injury "Super Lawyer"  multiple years, Mr. Bryant has also been voted one of the Top 100 Minnesota  "Super Lawyers" four times.