Living with a spinal cord injury (SCI) can cost more than $1 million in direct expenses, like medical bills, housing, and transportation, during the first year alone. While this amount drops considerably once the patient has reached maximum medical improvement, it can still amount to six figures annually.
In other words, sustaining spinal cord damage is enough to threaten most people's financial security. If you're recovering from such an injury and you're wondering how you're ever going to make ends meet, a seasoned attorney may be able to help.
Most SCIs are the result of preventable accidents. Leading causes include motor-vehicle collisions, falls, and violent altercations. If you could have avoided getting hurt had someone exercised reasonable care, you may be able to sue for damages.
Should you decide to proceed, don't make the following mistakes, which can jeopardize the strength of your claim:
1. Ignoring Medical Advice
Recovering from an SCI is a long and arduous road that's riddled with hurdles. There might be some weeks when you make consistent progress and others when you plateau or even regress. No matter how you feel on any given day, though, it's important to follow your doctor's orders.
If your condition improves immensely over a fairly short period of time, for example, you might be inclined to return to work. As long as your provider has instructed you to take it easy, however, you should stay home. If you go back to work and end up suffering complications, you could be deemed liable for their severity.
2. Overlooking Non-Economic Damages
Minnesota allows personal injury plaintiffs to seek compensation for their non-economic damages, and for those with an SCI, such losses can be significant. Examples include mental anguish, loss of enjoyment in life, and pain and suffering.
You can track these damages by keeping a journal. Start one as soon as possible after the accident, and write daily entries about the ways in which your SCI is hurting your quality of life.
3. Corresponding with the Insurance Adjuster
No matter how compassionate and empathetic the insurance adjuster seems, their ultimate goal is in direct opposition with your own. They want to protect the carrier's bottom line, while you want to recover enough funds to cover all the loss you've incurred as a result of your injury.
Since insurance adjusters are essentially professional negotiators—and they have all kinds of strategies for convincing claimants to accept less than they deserve—it's best to avoid talking to them at all. Instead, refer them to your attorney, who will undoubtedly know their manipulation tactics well and will ensure you don't fall victim to them.
Speak with a St. Cloud Spinal Cord Injury Lawyer
At Bradshaw & Bryant, we know just how devastating catastrophic injuries can be on the whole family. If you sustained spinal cord damage because another party was negligent, we'll guide you through every stage of the claims process, and we'll ensure you don't make any critical mistakes along the way. To schedule a free initial consultation with a spinal cord injury attorney in St. Cloud, call 320-259-5414 or fill out our Contact Form.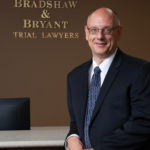 A founding partner with Bradshaw & Bryant, Mike Bryant has always fought to find justice for his clients—knowing that legal troubles, both personal injury and criminal, can be devastating for a family. Voted a Top 40 Personal Injury "Super Lawyer"  multiple years, Mr. Bryant has also been voted one of the Top 100 Minnesota  "Super Lawyers" four times.