For those who get hurt in motor-vehicle collisions, the associated medical bills tend to add up fast. Even injured parties who have adequate health insurance can expect to receive invoices from the ambulance transport company, the emergency department, and the radiology lab where they underwent diagnostic imaging.
Thankfully, just because you're billed for some of the care you receive doesn't mean you're expected to cover it out of pocket. In Minnesota, for example, if you incur more than $4,000 in reasonably necessary medical expenses, you can seek compensation from the party that was to blame for the wreck by filing a third-party claim with their insurance carrier.
Just because you have grounds for a claim, however, doesn't mean you're guaranteed a payout. In order to get the responsible party to cover your medical bills, you're going to have to put together a strong case. That means logging your injury-related expenses diligently.
Regarding medical bills, it's imperative that you make a copy of each one to ensure redundancy and then store the originals in a safe place. You can bolster this collection by saving the records from each appointment. Examples include nursing logs, x-rays, MRI scans, and prescriptions.
Contextualizing your medical bills by journaling about your recovery will also strengthen your claim for damages. After every doctor's visit, write a brief entry about what happened. Who did you see, what kinds of tests or treatments did they perform, and what was the outcome?
Since insurance carriers ultimately want to protect their bottom line, you can be sure the claims adjuster will scrutinize every expense for which you seek reimbursement. By anticipating this scrutiny and supplying additional documentation to support the bills and invoices you present, you can hopefully streamline the negotiations. And if the claims adjuster still refuses to offer a fair settlement, you can take them to court.
How Else Can I Strengthen My Damages Claim?
When it comes to car accident claims, medical bills typically represent a mere fraction of the recoverable damages. To pursue every dollar you deserve, including those for lost wages, pain and suffering, and loss of enjoyment in life, you're going to have to present a lot more than just hospital bills and medical records. Other evidence that may contribute to your damages claim includes:
• Old paystubs;
• Tax returns;
• Receipts for replacement services;
• Quotes for home and vehicle modifications;
• Psychological evaluations; and
• Statements from friends, loved ones, and colleagues.
Call 320-259-5414 to Discuss Your Case with a St. Cloud Car Accident Attorney
If you're facing mounting medical bills following a motor-vehicle collision, turn to Bradshaw & Bryant for help. We'll investigate the circumstances surrounding the crash to identify all liable parties, so you can pursue the funds you need to make your life whole again.
Our compassionate team is determined to hold reckless and negligent parties liable for the devastation left in their wake. To schedule a free initial consultation with a car accident lawyer in St. Cloud, complete our Contact Form or call 320-259-5414.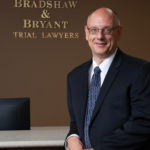 A founding partner with Bradshaw & Bryant, Mike Bryant has always fought to find justice for his clients—knowing that legal troubles, both personal injury and criminal, can be devastating for a family. Voted a Top 40 Personal Injury "Super Lawyer"  multiple years, Mr. Bryant has also been voted one of the Top 100 Minnesota  "Super Lawyers" four times.