Especially in 2020 it's been great to have a forum to talk about making the world safer, but even more important has been the opportunity to learn from Legal Examiner and great lawyers across the country. Here's the list of what the most viewed pieces have been for 2020.
5 Factors That Influence Monsanto Roundup Cancer Lawsuits MIKE BRYANT AUG 7, 2019
Real Life Example of Justice MIKE BRYANT  OCT 20, 2011
Can you get a ticket for exceeding the speed limit when passing a vehicle on a two lane road? NICOLE BETTENDORF JUL 27, 2009
Minnesota Department of Revenue Issues Check Fraud Alert MIKE BRYANT MAR 3, 2014
Penalties for Violating Minnesota's Hands-Free Cellphone Law MIKE BRYANT AUG 4, 2019
The Diocese of St Cloud Release Their List of 33 Priests Accused of Sexually Abusing Minors ( 2 updates) MIKE BRYANT JAN 3, 2014
Diocese of St Cloud Releases a List of Sex Offenders. (Update) MIKE BRYANT  JAN 4, 2014
Why Survivors of Clergy Sex Abuse Shouldn't Rely on the Catholic Church MIKE BRYANT  JAN 19, 2020
Update on a Past Post About a Teen's Death in Buffalo MIKE BRYANT  FEB 7, 2011
Does my Teenager Need a Booster Seat??  JOE CRUMLEY JUL 28, 2009
Here is the top ten from our Minneapolis blog.
Here is the top ten for the Legal Examiner.
Worth reading also :
Top 10 Civil Justice Stories of 2020: Part One, RICHARD SHAPIRO  DEC 28, 2020
Top 10 Civil Justice Stories of 2020- – Part II (i.e. Top 5), RICHARD SHAPIRO  DEC 26, 2019
We hope to build off this year and post even more in 2021.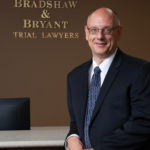 A founding partner with Bradshaw & Bryant, Mike Bryant has always fought to find justice for his clients—knowing that legal troubles, both personal injury and criminal, can be devastating for a family. Voted a Top 40 Personal Injury "Super Lawyer"  multiple years, Mr. Bryant has also been voted one of the Top 100 Minnesota  "Super Lawyers" four times.