The last couple of weeks a number of us here at the Injuryboard have been seeing the same comment:
" I did not think I was going too fast". A common remark from people losing control of front wheel drive vehicles. What the average person and some experts are not aware of is that there can be as high as 950 pounds or more weight on the front axle of their vehicle than the back. So a car that feels like a limousine on the front holds like a golf cart on the back
A 3000lb car with a weight ratio of 65% front weight and 35% rear weight will weigh 1950lb on the front and 1050lb on the rear. After you use 10 gallon of fuel from the rear tank one of the front wheels has as much traction as both rear combined.
If you analyze single vehicle accidents you will find most of them had better tires on the front than the back or a very large weight difference. In fact the worst balanced cars have 4 times as many fatalities as cars designed with better balance. How are you going to tell how fast is too fast under these conditions when it is possible for a balanced car to handle fine on a slippery surface at 50 mph and an unbalanced car to lose control at 20 mph and both to feel the same to the drivers.
Society of Automotive Engineers paper 2002-01-0553 shows any decrease of tread depth from new of the rear tires can contribute to an accident.
Not sure who Harvey McFadden is but it did get me over to the study. Interesting stuff, that confirms the importance of tire tread. A couple of us here at the Injuryboard have talked about the issue of tire tread in the past:
Did You Know… Tires Have An Expiration Date?, Brett Emison | July 26, 2010 11:00 AM
Deceptive Driving Hazard of Aged Tires, Randy Appleton | February 01, 2010 7:23 PM
If Your Vehicle Uses Tires, You Have To Watch This., Mike Bryant | December 21, 2009 9:43 AM
Thanks for the comments and the reminder Mr McFadden.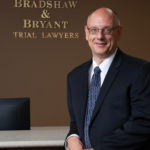 A founding partner with Bradshaw & Bryant, Mike Bryant has always fought to find justice for his clients—knowing that legal troubles, both personal injury and criminal, can be devastating for a family. Voted a Top 40 Personal Injury "Super Lawyer"  multiple years, Mr. Bryant has also been voted one of the Top 100 Minnesota  "Super Lawyers" four times.