I was watching this ad the other day:
http://www.youtube.com/watch?v=jL9duLVeFRM
What a bunch of garbage! It uses the typical tort reform themes of the McDonalds coffee case, made up claims, and "everyone is going to sue you".
Let's start with the obvious: Mayhem should be in prison for insurance fraud.
The less direct: You don't just get money when you make a claim. The claim only works if you have liability (fault) and damages (injures/loss)
Then the downright hidden lies: The idea that you don't have enough coverage. The "fifteen minute coverage" line is really just to make more money for them. See, this is an ad which exposes as much greed as Mayhem.
They profit by scaring the hell out of everyone. It sells more insurance (because you might be sued) and convinces jurors that claims are made up. Win Win for Mayhem. But, looks like fraud to me.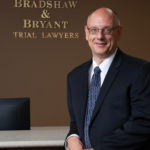 A founding partner with Bradshaw & Bryant, Mike Bryant has always fought to find justice for his clients—knowing that legal troubles, both personal injury and criminal, can be devastating for a family. Voted a Top 40 Personal Injury "Super Lawyer"  multiple years, Mr. Bryant has also been voted one of the Top 100 Minnesota  "Super Lawyers" four times.