The question we often get when people first call is "Do I need a lawyer?" I have been looking at this question and the various parts in the past over at the Minneapolis blog.
If you have been in a car collision, it is always safe to talk to someone who does personal injury work to make sure that you know what all of your rights are. The call and visit are usually free, and if nothing else, you can make sure that you understand what coverages you have and how the issues that come up can be dealt with.
It doesn't cost you anything to talk to a personal injury lawyer in most cases because most of us are paid on what is called a contingency fee basis. This means that we are only paid if you receive money from the parties at fault.
There is always tons of paperwork that will come with being injured and being out of work. A Personal Injury Attorney who does this type of work can help you make sure that everything is filled out correctly and that all of your interests are protected.
Being asked to sign something by an insurance company can be usual business or could be a way for them to get you to sign away your claim. It is always worthwhile to make sure that you understand what you are signing.
Talking to the insurance company and giving a statement can be devastating to your case. They do this kind of thing every day. A little question that doesn't mean much at the time can mean a lot later on. By having an attorney with you, your rights can be protected.
Figuring out how much coverage you have and what applies can be a daunting task for most people. It is not unusual for unrepresented or poorly represented people to miss major sources of protection. It can make a big difference when you talk to lawyers who do this type of work and who are good at what they do.
Is the insurance adjuster giving you legal advice? If so, they shouldn't be. They don't represent you and in most cases they aren't lawyers. They rarely, if ever, have your best interest at heart. So make sure you get legal advice from someone on your side.
The type and quality of the lawyer and law firm you pick will make a difference. Most of all, you need to be comfortable with who you hire. You also need to make sure that they have the experience and qualities that it takes to successfully pursue your claim.
Does it matter if the lawyer has a good staff? You bet. The people around a law firm can be as important to you as the lawyer themselves. These are the people who make sure that letters get done correctly, that information goes out, and that everything gets followed up on.
Does the lawyer matter? You bet. If you just hire anyone thinking that it doesn't make a difference, you may not be doing much better than if you had handled your case yourself. You need someone with the experience and the abilities to see your case through to the best result. Someone who will try the case if necessary or council you properly on getting the case resolved.
What your case is worth is usually impossible to say right after a collision. Sometimes, because of insurance limits the issue is only how much is available. But, to properly evaluate a case, the lawyer will need time to see your records, talk to your doctors, and most of all, learn how it has affected your life.
If you are in a motor vehicle collision in Minnesota, you need to notify your insurance agent in order to start the no-fault process. If you have questions, you should talk to an attorney who is experienced in handling these types of injuries.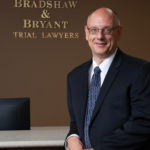 A founding partner with Bradshaw & Bryant, Mike Bryant has always fought to find justice for his clients—knowing that legal troubles, both personal injury and criminal, can be devastating for a family. Voted a Top 40 Personal Injury "Super Lawyer"  multiple years, Mr. Bryant has also been voted one of the Top 100 Minnesota  "Super Lawyers" four times.