Sometimes we help clients that have had damage to property in a car collision. The insurance company for the person who caused the wreck is required to pay to fix the damage or the fair market value, if the property is totalled.
Often insurance companies seem great taking care of these small problems early in the case. Companies like Progressive and American Family run "Little White Trucks," sometimes even showing up to write a check at the scen of the crash. I think they figure if they provide "fast and friendly" service and quick payment, people will start to trust them and think they're on their side. But as my partner recently wrote, Adjusters Simply Aren't On Your Side.
Yesterday was a perfect example. A client had a small amount of property in the back of her vehicle damaged when hit by a person with Federated Mutual Insurance. The Federated adjuster offered to pay for it, but wanted her to sign a release. He told her it was just a release for the property damage.
Fortunately, she brought it to me. It was not "just a property damage release" but a full blown "Release of All Claims," including personal injuries.
In small print, it said, "I, being of lawful age, do hereby release, aquit and forever discharge [defendant's name] and Federated Mutual Insurance and all other persons, firms corporations… from any and all action, causes of actions, claims, demands, damages, costs, loss of services, expenses and compensation, on account of or in any way growing out of, any and all known or unknown personal injuries including death resulting therefrom and property damage resulting …from an accident or event that occurred [date and place of the wreck]."
It continued "I declare… that the injuries sustained are permanent and progressive and that recovery… is uncertain….."
For less than $200, my client would have given up her right to compensation for her injuries, or even if she died.
We called and pointed out the problems, and the adjuster, without apology or explanation, sent a new release. Even that one had problems.
Now maybe it was a mistake, or an oversight. Who knows, they never explained. But a release is a contract. Even such a tiny amount of money exchanged for a release could be enforced by the courts! It wouldn't be right, but it's happened before.
So follow Mike Bryant's advice: Don't Sign Anything until you Talk to a Lawyer!
And it's free to talk to us and to meet with us about your personal injury claim.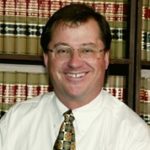 As a partner with Bradshaw & Bryant, Joe Crumley has over 20 years experience with the firm—helping injured people and their families to secure just and fair compensation. Excelling in personal injury litigation, Mr. Crumley has secured numerous record-setting verdicts and settlements and won accolades such as MTLA's "Trial Lawyer of the Year" and "Excellence" Awards.