Studies confirm that there are too many people who drive when they are tired. According to a study by the National Sleep Foundation, more than half of all adults have driven drowsy at least once during the past year; 28 percent said they've nodded off behind the wheel. This is just the people who admit to it. Other studies have suggested that early start times for schools have added a large number of teenagers to this group.
Having deposed a number of defendants, I can't remember the last time they admitted to being tired at the time of the accidents. Sometimes they admit it to the officer at the scene, but unless the investigation is immediate or they are forthright in the reason for the accident, it's unlikely that the sleepiness will be ever found out. The reality being that it's probably a major reason in a number of the accidents.
Research continues to suggest that sleep apnea may play a large role in the sleep issues , particularly in larger men. The sleep research labs suggest the following issues to keep a look out for:
Some of the most common symptoms of sleep apnea include:
excessive daytime sleepiness
snoring
gasping for air
headaches
excessive movements in bed
a partner who won't sleep in bed with you
The U.S. National Heart, Lung, and Blood Institute has more about sleep apnea.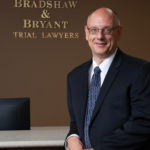 A founding partner with Bradshaw & Bryant, Mike Bryant has always fought to find justice for his clients—knowing that legal troubles, both personal injury and criminal, can be devastating for a family. Voted a Top 40 Personal Injury "Super Lawyer"  multiple years, Mr. Bryant has also been voted one of the Top 100 Minnesota  "Super Lawyers" four times.