The college season is off and going and the Pros will be starting this week. Great time to be following your team and enjoying the games. Unfortunately, there can be to much drinking that goes along with the fun times.
I looked at the recent studies earlier this year:
Sporting Arenas Shouldn't Be Free From Drinking Common Sense, Mike Bryant | February 21, 2011 9:25 AM
I also ran across a press release from Birmingham personal injury attorney Keith T. Belt , which pointed out:
a 2009 University of Colorado study, "College Football Games and Crime," found that college football home games were associated with a 13 percent increase in DUI arrests in areas surrounding the stadiums.
Here are a couple of other points to consider:
• Make the right play. When you've been drinking, toss the keys and catch a safe and sober ride. Remember: Fans Don't Let Fans Drive Drunk.

• Make sure your college bowl party doesn't end with a crash: Choose a designated driver before the game begins. Support that person in their choice to stay sober.

• Take a cab or public transportation to and from your bowl party.

• Watch the big game at home. Then travel isn't necessary.

• When in doubt, toss the keys out.

• Sleep it off, if you've had too much to drink. Time is on your side.

• When you see a friend or fan that has had too much to drink, do whatever it takes to stop them from driving drunk.

• If you suspect another fan is operating under the influence of alcohol, do the right thing and call 911. You could be saving someone's life.

When you and your friends arrive home safely from the big game, everyone wins.
I will be back cheering on my Vikings and Gophers. Let's hope all of us do so with safety and the long season in mind.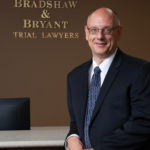 A founding partner with Bradshaw & Bryant, Mike Bryant has always fought to find justice for his clients—knowing that legal troubles, both personal injury and criminal, can be devastating for a family. Voted a Top 40 Personal Injury "Super Lawyer"  multiple years, Mr. Bryant has also been voted one of the Top 100 Minnesota  "Super Lawyers" four times.