Monday afternoon, there was a head on collision on Highway 65 north of Northwood, Iowa. A 31-year-old Northwood man , was southbound when he drifted over the center line, according to the police. He hit head on a northbound vehicle, driven by a 33-year-old , Austin, Minn. man. A woman was airlifted from the scene. Hopefully, everyone will heal quickly.
Update: Steve Lombardi looks at some of the reasons it could have happened with : Was it a Worth County Distracted Driver?
Interesting issues come up in these case. Might the Minnesota man need a lawyer in Iowa or Minnesota? Our office has been involved in a number of cases like this one, and some times the answer is one and other times it can be both.
Minnesota has no fault benefits and there is a requirement that as a out of state collision those benefits will need to be paid back if there is any type of double recovery.
Iowa has different statute of limitations that will need to be followed.
There are different insurance minimums in Iowa, so on occasion you may actually have a uninsured motorist case because of small limits.
If the case needs to go into suit, the lawyer will have to be admitted into Iowa court.
So does the need for two lawyers cost you more money? In most cases the answer is no. Usually, a agreement is entered into that they share in the same percentage based upon what work is done. So it doesn't cost you more money to make sure you are protected in both states.
If you are in an accident, we encourage you to see an attorney. As an example, we assisted a client in a situation where months after an accident, his family was facing bankruptcy, only to find he had an actionable claim. Valuable evidence is often lost when there is a delay.
Insurance companies have teams of defense lawyers to help them minimize your compensation. You need an experienced and effective advocate on your side, dedicated solely to protecting your interests.
Immediately after a personal injury, it's critical to see a doctor and to file a police report.
Experienced personal injury lawyers regularly represent clients suffering from serious and catastrophic injuries. They have extensive experience negotiating with insurance companies and litigating personal injury and wrongful death claims. Whether you were injured in an auto or truck accident, in a collision with an insured or under insured driver, or in a car accident involving alcohol, you need someone that will go to work for you immediately to seek the financial compensation you need and deserve.
For questions contact:
Steve Lombardi, 1300 – 37th Street, Suite 6, West Des Moines, Iowa 50266. Tel: 515-222-1110 Fax: 515-222-0718
Or me, Mike Bryant, 1505 Division Street | Waite Park, Minnesota 56387 | T: 320.259.5414 | F: 320.259.5438 and 5500 Wayzata Boulevard Suite 1025, Golden Valley, Minnesota 55416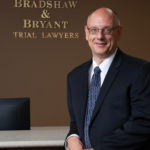 A founding partner with Bradshaw & Bryant, Mike Bryant has always fought to find justice for his clients—knowing that legal troubles, both personal injury and criminal, can be devastating for a family. Voted a Top 40 Personal Injury "Super Lawyer"  multiple years, Mr. Bryant has also been voted one of the Top 100 Minnesota  "Super Lawyers" four times.