Recently, I discussed the "independent" study that was put together by the Insurance Research Council and touted by the Minnesota Insurance Federation . The study's impact according to press releases was to show that Minnesota has a problem with it's no fault system. But on closer look, the numbers used show that Minnesotans pay less than the national average for liability coverage.
At the same time, we have one of the best systems for coverage's. The mandatory underinsured and uninsured coverages help people protect themselves when they are in an accident with a car that has no or not enough coverage. The 30,000 liability limits take care of many smaller cases. Finally, the Minnesota no fault system, which the study seems intended to attack, provides for wage loss, medical coverage, medical mileage and replacement services at one of the most important times for a injured person.
A comparison is then made to the neighbor states of Iowa, Wisconsin, South Dakota and North Dakota. At best, it's comparing apples to oranges. Each of those states provide for less benefits and have substantially less drivers. There really is no surprise in that result.
While some of the benefits should be looked at because they haven't been increased in over 30 years. The system is one that works and is far more valuable for the injured person than most systems set up in other states.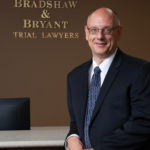 A founding partner with Bradshaw & Bryant, Mike Bryant has always fought to find justice for his clients—knowing that legal troubles, both personal injury and criminal, can be devastating for a family. Voted a Top 40 Personal Injury "Super Lawyer"  multiple years, Mr. Bryant has also been voted one of the Top 100 Minnesota  "Super Lawyers" four times.