In each new case we will get a question like : Do I have to sue the person who hit me, or can I sue their insurance company?
Minnesota is not a direct action state. This means that despite the insurance company hiring the attorney handling the negotiations and calling most if not all of the directions of the lawsuit, we still have to sue the individual person. Presently, there is a bar on evidence being introduced to the jury to show that the defendant even has insurance. There are people who believe strongly on both sides of this issue. Some argue that if the insurance information got in, jurors would be concerned about their own insurance rates. Others, like myself, dislike the inability to tell the jury who is really behind the case. It seems as if you are suing an individual person, and many defense attorneys try to take advantage of this. There is also a camp of people who believe the jury knows that insurance is behind it. I would rather have the jury get the whole truth on this issue.
These questions are not intended to replace a consultation with an attorney, nor do they take into consideration facts that may differ about your particular case. Here at the Legal Examiner , we have experienced attorneys who can deal with your individual questions and best help you with your case. Feel free to get the help you need by contacting one of us.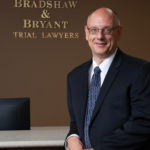 A founding partner with Bradshaw & Bryant, Mike Bryant has always fought to find justice for his clients—knowing that legal troubles, both personal injury and criminal, can be devastating for a family. Voted a Top 40 Personal Injury "Super Lawyer"  multiple years, Mr. Bryant has also been voted one of the Top 100 Minnesota  "Super Lawyers" four times.