On August 1, 2008, it became illegal to text while driving in Minnesota. It may seem obvious, but entering messages on a tiny keyboard and screen is about as dangerous as anything you can do while driving.
We've all seen people eating lunch, changing makeup or just talking on a cell phone while hurtling down the freeway at 80 miles an hour in a 2000 pound missile of steel and glass. Many states have also outlawed cellphone use, but not Minnesota. Most of those states make exceptions allowing handsfree cell phone use.
However, recent studies have shown that driver attention is degraded, even when using a hands free device.
Talking on a phone, whether manual or hands free, has been shown to result in "cognitive capture" diverting a driver's attention from the job of driving. Some researches have gone as far as to equate the hazards associated with using a cellular phone to the impairment which results from driving while drunk.
Here are a few of those studies:
"A Decrease in Brain Activation Associated With Driving When Listening to Someone Speak" Brain Research 2008 February 19, Marcel Adam Just, Timothy A. Keller, Jacquelyn Cynkar, Carnegie Mellon University.
"Dual Task Studies of Simulated Driving and Conversing On a Cellular Phone" Psychological Science, Vol. 12. No.6, November, 2001, David L. Strayer and William A. Johnston, University of Utah.
"Cell Phone Induced Failures of Visual Attention During Simulated Driving" Journal of Experimental Psychology, Applied, 2003 Vol. 9 No. 1, 23-32.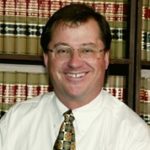 As a partner with Bradshaw & Bryant, Joe Crumley has over 20 years experience with the firm—helping injured people and their families to secure just and fair compensation. Excelling in personal injury litigation, Mr. Crumley has secured numerous record-setting verdicts and settlements and won accolades such as MTLA's "Trial Lawyer of the Year" and "Excellence" Awards.