I have in the past been to Abate University talking about the importance of all motorcycle riders reviewing what they have for insurance coverage. Because of past court rulings, the insurance companies are not being held to the same standard of coverage as with automobile insurance. The court reasoned that since motorcycle coverage isn't mandatory, the companies don't need to write coverage that that means the same thing as would be understood with your car policy.
So as I was watching a couple of the national companies advertise for insuring more motorcycles I thought it was important to write about a couple of things to keep in mind:
– Check your UIM coverage. If it says the words "difference of the limits", that means that your coverage will actually be subtracted by the defendant's ( person at fault's) coverage. So go ahead and accept that you are buying $30,000 less coverage than the policy says. So if you bought $30,000 in UIM coverage you probably bought nothing.
– Does the property damage really take care of your bike?
– Unless you have purchased separate no fault coverage for wage loss and medicals bills, you don't have that coverage. So make sure that you have heath insurance and disability coverages available. Or talk to a company that does provide No Fault for motorcycles.
– Ask your agent what coverages you have and make notes. I am amazed how many times I hear that a person has asked for "full coverage" and not gotten anything near what they wanted.
– If you have an umbrella coverage, make sure you know what it covers and what it doesn't. It is not unusual at all to have a person buy extra protection and find that they only covered liability (fault) for themselves and did nothing to cover their own damages.
We are always available to look at a policy for you if you set up a time to do it. After a horrific collision, it is too late to find out that you don't have the protection you thought you did.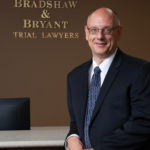 A founding partner with Bradshaw & Bryant, Mike Bryant has always fought to find justice for his clients—knowing that legal troubles, both personal injury and criminal, can be devastating for a family. Voted a Top 40 Personal Injury "Super Lawyer"  multiple years, Mr. Bryant has also been voted one of the Top 100 Minnesota  "Super Lawyers" four times.