You may already know the importance of taking photographs and exchanging insurance information after a car accident. But once you leave the scene, your top priority should be to undergo a medical evaluation.
Treating your injuries as soon as possible may shorten your recovery time, but that's not the only reason to visit your doctor promptly. Without a medical record of your injuries immediately after the crash, the insurance company or at-fault driver might argue that your injuries were caused by something else or that your decision to put off medical care contributed to their severity.
Some Car Accident Injuries Are Asymptomatic 
Some of the most common and severe car accident injuries do not exhibit any symptoms for hours or even days following the collision. According to the Mayo Clinic, for example, the most noticeable symptoms of whiplash can take 24 hours to develop.
Likewise, traumatic brain injuries (TBIs) are not always immediately apparent. A concussion, which is a mild TBI, may not exhibit symptoms for a day or two.
How Soon After a Car Accident Should I Visit a Doctor? 
As a general rule, you should undergo a medical evaluation as soon as you are able to do so. If an accident happens late at night or early in the morning, the only clinics that are open may be urgent care centers.
Do not put off your medical evaluation just because your primary care provider is not available. Again, the insurance company will look for any possible reason to dispute your claim. If you do not seek immediate medical attention and follow your doctor's treatment instructions, this could jeopardize your case.
Mention Every Part of Your Body That Feels Pain 
During your medical evaluation, be sure to mention every part of your body that hurts to make sure all of your injuries are documented. If your neck and lower back were injured but you only tell your doctor about your neck, it may be difficult to tie your back injury to the accident. This could prevent you from recovering the compensation you need to pay for medical treatment for your back injury.
It is essential that you follow your doctor's instructions exactly. Take your prescribed medication, undergo any suggested physical therapy, and do not miss any follow-up appointments. Ignoring your doctor's orders could give the insurance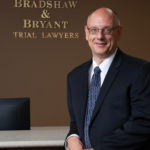 A founding partner with Bradshaw & Bryant, Mike Bryant has always fought to find justice for his clients—knowing that legal troubles, both personal injury and criminal, can be devastating for a family. Voted a Top 40 Personal Injury "Super Lawyer"  multiple years, Mr. Bryant has also been voted one of the Top 100 Minnesota  "Super Lawyers" four times.