As the average weight of bus passengers has been rising, the Federal Transit Authority (FTA) is proposing raising the assumed average weight from 150 pounds to 175 pounds. The significance will be that fewer people will be allowed on a city transit bus.
The USA Today has been reporting :
"This change is really just a bow to reality," says Joseph Schwieterman, who studies bus ridership as director of the Chaddick Institute for Metropolitan Development at DePaul University in Chicago. "With no small number of bus passengers tipping the scale at 200 pounds or more, this is much more realistic."
The federal guidelines being used presently are based on surveys in 1960-62 of what Americans weighed then. Today, the Centers for Disease Control and Prevention says, the average weight is 194.7 pounds for men 20 and older and 164.7 pounds for women.
The idea would be to come up with a new average that takes people of today into consideration and provide for those numbers in loading buses.
It's another issue that may be looked at when certain types of collisions take place. Hopefully, with the new numbers a safer bus ride will be accomplished.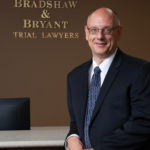 A founding partner with Bradshaw & Bryant, Mike Bryant has always fought to find justice for his clients—knowing that legal troubles, both personal injury and criminal, can be devastating for a family. Voted a Top 40 Personal Injury "Super Lawyer"  multiple years, Mr. Bryant has also been voted one of the Top 100 Minnesota  "Super Lawyers" four times.