The rain has finally stopped and it's the hot season here in Minnesota, so many people are taking to our many lakes. Great time for water skiing, swimming and fishing. It's even fun to just float around on the waves. But, it's also a time to be safe.
As I have previously written:
Summer Boating: A Couple More Warnings, Mike Bryant | July 03, 2010 11:22 PM
To keep more people safe, the national water patrols have announced 'Operation Dry Water' an effort across the country to cut down on drinking and boating. In Minnesota the legal limit is 0.08 and first offenders can be fined $1,000 and go to jail. "We're seeing more and more of these where everyone's having a good time and drinking, but they're skiing and they turn around to pick up a falling skier and they'll run right into the skier," said Jeff Dauterman, a recreation safety warden with the DNR.
In Minnesota, about 30 percent of fatal boating accidents have some alcohol involvement.
Operating a boat with a Blood Alcohol Content (BAC) of .08 or higher is against both federal and Minnesota law.
Alcohol can impair a boater's judgment, balance, vision and reaction time. It can increase fatigue and susceptibility to the effects of cold-water immersion.
Sun, wind, noise, vibration and motion – "stressors" common to the boating environment – intensify the side effects of alcohol, drugs and some medications.
Alcohol consumption can result in an inner ear disturbance that can make it impossible for a person suddenly immersed in water to distinguish up from down.
Impairment can be even more dangerous for boaters than for drivers, since most boaters have less experience and confidence operating a boat than they do driving a car. Minnesota boaters average only about 60 hours of boating per year.
A three-year field evaluation by the Southern California Research Institute recently validated a battery of tests for marine use that are now the basis for efforts to implement a National Marine Field Sobriety Test standard.
Combined with chemical tests using blood, breath and urine samples, these validated ashore and afloat tests give marine law enforcement officers an impressive arsenal in their ongoing efforts to enforce BUI laws.
Persons found to be Boating Under the Influence can expect to incur severe penalties. If a boat operator is BUI, the voyage may be terminated, the boat may be impounded and the operator may be arrested. Penalties can include fines, jail time, loss of motorboat operating privileges, and under some circumstances, the forfeiture of the boat and trailer.
In addition to the above penalties, persons who refuse testing will also be subject to a separate and more severe criminal charge for refusal and loss of their motorboat operating privileges for one year.
Alcohol is also dangerous for passengers. Intoxication can lead to slips, falls overboard and other dangerous accidents.
It is illegal in every state and territory to operate a boat while under the influence of alcohol or drugs.
Most deaths among boaters are caused by falls overboard and capsizing. In a small boat, a boater has to resist the urge to stand up. Those who must move around should keep their weight low and close to the center of the boat. And, it should go without saying that a boater should wear their personal flotation device.
Officials say that in nearly three-quarters of the fatal accidents, 88% of victims were not wearing life jackets.
To be prepared take some time and take the Boat safety course and exam. Also make sure to review the Minnesota Boating Guide. The water can be fun , but as many of my fellow Injuryboard members have pointed out, it can be deadly.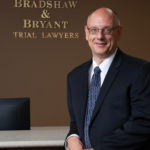 A founding partner with Bradshaw & Bryant, Mike Bryant has always fought to find justice for his clients—knowing that legal troubles, both personal injury and criminal, can be devastating for a family. Voted a Top 40 Personal Injury "Super Lawyer"  multiple years, Mr. Bryant has also been voted one of the Top 100 Minnesota  "Super Lawyers" four times.