There have been a number of blogs written here at the injury board about the verdict and subsequent sanctions against Burlington Northern in the wrongful death case that took place in Anoka, Minnesota.
Rail Operators Failing to Maintain Safe Crossings, Randy Appleton | October 18, 2009 2:01 PM
Court Penalty Punishes Burlington Northern $4 Million For Lying, Mike Bryant | October 18, 2009 10:29 PM
Burlington Northern Sante Fe Railroad Destroyed Evidence in Attempted Cover Up, Brett Emison | October 16, 2009 11:32 AM
Railroad Says Human Life Not Worth $6 million, Brett Emison | December 12, 2009 10:07 AM
Now it's on to the next stage, which is the appeals. Last week, the first stop was the Minnesota Court of Appeals. After they rule, there will probably be attempts to seek review with the Minnesota and probably the U S Supreme Court.
It's an example of how big money defendants drag things on. It reminds me of a question I recently got about how long it is after the trial that the plaintiff gets they money that the jury found was justice. Unfortunately, for some cases the answer, is who knows?
In this case, the railroad is appealing issues which include:
The amount awarded.
The evidence that was allowed.
The sanctions that were imposed.
For the families, this will mean more waiting and periodic reminders about their loss splashed around the headlines. It's important that they continue their battle to ensure a just result. But, clearly BNSF will do nothing to make it easier.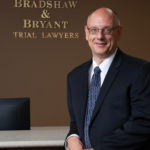 A founding partner with Bradshaw & Bryant, Mike Bryant has always fought to find justice for his clients—knowing that legal troubles, both personal injury and criminal, can be devastating for a family. Voted a Top 40 Personal Injury "Super Lawyer"  multiple years, Mr. Bryant has also been voted one of the Top 100 Minnesota  "Super Lawyers" four times.