The on-going battle between criminal defense attorneys and the State of Minnesota took yet another turn recently with the discovery that Otter Tail County has been using an Intoxilyzer Machine with "software code discrepancies." The Intoxilyzer 5000 is a breath test machine law enforcement uses to test the alcohol concentration of individuals accused of driving under the influence. The software code is comparable to blueprints in that it reveals whether a machine is functioning properly. Software codes operating with errors could result in test results with inaccurately higher alcohol concentrations. Hence, people may be wrongfully charged with a DUI or may be charged with more severe DUI offenses than they actually committed.
We have written in the past about this type of problem in others States:
Washington Intoxilyzer Issues Should Cause Concerns For All Law Enforcement, Mike Bryant | June 14, 2010 5:16 PM
This recent news has left defense attorneys questioning how many other counties are using malfunctioning machines or machines with "software code discrepancies." The State has long maintained the infallibility of these machines; however, closer inspection by is proving otherwise.
Currently, Minnesota defense attorneys are challenging over 2,000 cases involving the Intoxilyzer machine. Specifically, defense attorneys are questioning the scientific validity and accuracy of these machines. Reports that at least one county in Minnesota is using a seemingly flawed machine only magnifies the problems with this equipment. Minnesota prosecutors have long fought defense attorneys' ability to access the source codes for Intoxilyzer to determine the machine's precision. Pursuant to a suit in Federal Court, experts hired by defense attorneys have finally been given access to see how these machines really work and to determine their accuracy. However, even with a Federal Court Judge's Order directing Minnesota to produce the source code, obtaining access to these machines has been difficult at best. Recently, CMI, a Kentucky corporation that produces the Intoxilyzer machines used in Minnesota provided the wrong code for defense experts to analyze.
All of these problems only intensify an individual's need to talk to an experienced criminal defense attorney if they are charged with a DUI.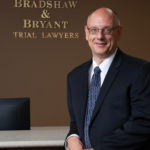 A founding partner with Bradshaw & Bryant, Mike Bryant has always fought to find justice for his clients—knowing that legal troubles, both personal injury and criminal, can be devastating for a family. Voted a Top 40 Personal Injury "Super Lawyer"  multiple years, Mr. Bryant has also been voted one of the Top 100 Minnesota  "Super Lawyers" four times.