I have been writing here for a little over four years. I remember spending about two weeks trying to think about what I would write about. I was concerned that someone had already written about a topic or that I would put something out that no one would read.
It was about a month in when I got my first attacking email. It came from a local school's administrator whose school I had pointed out was having an usually high number of alcohol related deaths. What do I do? Well a veteran blogger said: "Post it and write about it." I did that and really haven't ever looked back.
I still get attacks through emails or the comment section, but each one is really just a reminder that I got a reader and that it's something else to write about. That I have hit a nerve with an employee or a defendant themselves. There are also a bunch of very nice comments that remind me about why I have been writing.
I have struggled at times with keeping it up. However, when I am out in the world and look back over the last four years, I am shocked sometimes about how many topics I have touched on. How much the writing and reading has expanded my knowledge in so many ways. How current events suggest so many different topics.
I have had a couple of posts that have drawn over 10,000 readers. The usual has been closer to 100 readers. I sometimes am surprised that anyone reads them. Then I will hit on something and suddenly have a contact with a person involved with what I wrote about. It is a powerful reminder about how real each post really is.
I appreciate anyone who has stopped by and especially those who have taken the additional time to leave a comment. I hope to still be doing this in four years and beyond into the future.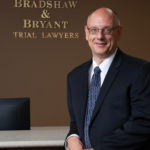 A founding partner with Bradshaw & Bryant, Mike Bryant has always fought to find justice for his clients—knowing that legal troubles, both personal injury and criminal, can be devastating for a family. Voted a Top 40 Personal Injury "Super Lawyer"  multiple years, Mr. Bryant has also been voted one of the Top 100 Minnesota  "Super Lawyers" four times.