It is amazing to look at the list of bad passwords. I would guess it's a combination of being lazy, not wanting to remember anything, and being oblivious to the world of identify theft. Here is the list from SplashData, I hope nobody recognizes theirs:
password (Unchanged)
123456 (Unchanged)
12345678 (Unchanged)
abc123 (Up 1)
qwerty (Down 1)
monkey (Unchanged)
letmein (Up 1)
dragon (Up 2)
111111 (Up 3)
baseball (Up 1)
iloveyou (Up 2)
trustno1 (Down 3)
1234567 (Down 6)
sunshine (Up 1)
master (Down 1)
123123 (Up 4)
welcome (New)
shadow (Up 1)
ashley (Down 3)
football (Up 5)
jesus (New)
michael (Up 2)
ninja (New)
mustang (New)
password1 (New)
Some of them are kind of funny. Not sure why anyone not names Michael or Ashley would use those as passwords. And then there is the classic Stone Cold Steve Austin/ X Files motto of trustno1. Now keep in mind that this list is perfect for any novice hacker to at least make a run through. So it is better to fix it , if you do show up here.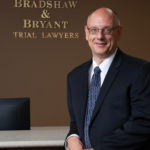 A founding partner with Bradshaw & Bryant, Mike Bryant has always fought to find justice for his clients—knowing that legal troubles, both personal injury and criminal, can be devastating for a family. Voted a Top 40 Personal Injury "Super Lawyer"  multiple years, Mr. Bryant has also been voted one of the Top 100 Minnesota  "Super Lawyers" four times.