Changes to Minnesota's expungement statute now allow individuals previously charged with, convicted of, or investigated for crimes a new opportunity to seal records.  These individuals, hoping past mistakes—or alleged mistakes—do not continue to follow them, may now seal records held by the Judicial and Executive branches of government.  Practically speaking, our clients may now seal their records and start fresh.
This was not always the case, due to what is called the "separation of powers."  We all remember Schoolhouse Rock's explanation of the branches of government: the Legislative branch makes the laws; the Executive branch enforces the laws; and the Judicial branch interprets the laws.  These branches have different powers that are designed to balance one another, but to do so, they must be separate.  Prior to the amendments to Minnesota's expungement statute on January 1, 2015, the Minnesota Supreme Court ruled that District Court Judges of the Judicial branch could not reach across the proverbial "isle" to seal records held by the Executive branch (i.e. the Department of Human Services and the Bureau of Criminal Apprehension).  The Court explained that absent authority granted by the Legislative branch (a law), such a reach violated the separation of powers principle, established by our Constitution.
The Supreme Court's interpretation allowed Executive branch agencies like the Bureau of Criminal Apprehension and the Department of Human Services to hold their records of charges and convictions—the records used in background checks for housing and employment—as long as they wanted.  Our clients were left without a way to cure difficulties gaining employment, housing, or even, entry into Canada.
Fortunately, the expungement changes allow our clients to seal "all records relating to an arrest, indictment or information, trial, or verdict" that are held by the Judicial and Executive branches.  Minn. Stat. § 609A.02, subd. 3.  Previously, we could only reach all these records if the case did not involve a finding of guilt (acquittal, dismissal, or completion of a diversion program).  Minn. Stat. § 609A.02, subd. 3(2).  The changes allow us to reach records pertaining to, both cases without an admission of guilt and cases with an admission of guilt.  The new additional reach of the statute includes: stays of adjudication and stays of imposition; and petty misdemeanor, misdemeanor, gross misdemeanor, and select felony convictions.  Minn. Stat. § 609A.02, subd. 3.
The statute, of course, does not simply allow for automatic expungement upon petition.  The court decides whether to grant expungement based upon a balancing of interests, shifting burdens of proof, and different timelines, depending on the level of offense.  There are a number of factors courts will consider.  There are exceptions to the statute, conflicting laws, complicated service requirements, and there will be almost certain opposition by prosecuting authorities and Executive branch agencies, like the Department of Human Services.
Nonetheless, the changes to the statute allow an important opportunity for a fresh start.  The process can be confusing and difficult to navigate.  But we can help, and we want to help, because we do not think past rain clouds should follow you forever.
It is important when you are seeking expungement in Minnesota that you get advice from an experienced attorney. The sooner you talk to an attorney, the better your chances that all of your options can be explored. At Bradshaw & Bryant, we have been helping people with all levels of charges from DUI and drug charges to physical assaults and homicides. We have put the time in to court to make a difference for you.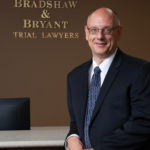 A founding partner with Bradshaw & Bryant, Mike Bryant has always fought to find justice for his clients—knowing that legal troubles, both personal injury and criminal, can be devastating for a family. Voted a Top 40 Personal Injury "Super Lawyer"  multiple years, Mr. Bryant has also been voted one of the Top 100 Minnesota  "Super Lawyers" four times.