This is a blog I've wanted to write for a very long time. It started even before I first started to write here at the Injuryboard. This event shaped both me, personally and our law office overall. During the winter of 2005, I was involved in a three week murder trial in Alexandria, Minnesota. A 29 year old man was charged with the murder of his 4 month old daughter.
The trial was conducted with Andy Pearson as the lead council, and I handled all of the medical issues. The case was difficult because it involved the death of a young child, but the evidence seemed clear that he didn't do it; that there was some other cause for the child's death that medical experts couldn't put their finger on.
At the time of trial, the prosecution's case was supported by the testimony of Dr. Michael McGee, the Ramsey county coroner. During the trial, McGee never addressed the issue of why there was old iron (a sign of healing that would have taken a significant amount of time) around the fracture site. Despite this evidence, the jury found Mike guilty. No matter what else happens in my career, that is a day I will never forget.
Michael Hansen's case went to the Minnesota Court of Appeals with no avail. The Minnesota Supreme Court denied a petition to hear Mr. Hansen's case. Then, the Innocence Project got involved. Some 5 years later, there were now experts who had a better idea about what had happened. The vague diagnosis of SIDS had now been found to actually be positional asphyxiation. A review of where the child died supported that all of the risk factors were present.
This time McGee did testy about the old iron. The judge in the review hearing found that McGee gave false testimony about infant skull fractures and about an accident that occurred six days before the baby died. Dr McGee is now under investfuture igation.
A new trial was granted and charges have since been dropped. Mike is now free and I am overjoyed. It can't be forgotten that there was a child who died here and that because of the charges, the grieving that usually is involved never really got to take place. My thoughts and prayers have always been with all of those who were touched by this very sad loss.
Most of all, I am confident that what was argued many years ago was the truth, but that it took awhile for Justice to be served. No one can give Mike that time he lost back and no one can replace his daughter, hopefully, his time free will give him solace and the happiness that can be gained by being free. A big thanks to the Innocence Project of Minnesota for doing what they do.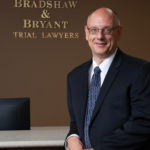 A founding partner with Bradshaw & Bryant, Mike Bryant has always fought to find justice for his clients—knowing that legal troubles, both personal injury and criminal, can be devastating for a family. Voted a Top 40 Personal Injury "Super Lawyer"  multiple years, Mr. Bryant has also been voted one of the Top 100 Minnesota  "Super Lawyers" four times.