In this day and age, it seems like everyone has a cell phone. All you have to do is look around at any busy street corner and there will probably be people on cell phones for miles. The question is, when should kids get them?
The first question involves what type of phone a child needs. A very basic phone (that is simply used as a way to call home) can be purchased for younger children in order to give them something to call with, while staying away from the additional smart phone options. Providing this basic phone for a young child also minimizes the expense if that child loses the phone. Think back to your school years as you walked past large boxes of lost coats, mittens, and hats. According to the New York Times, June 10, 2010, When to Buy Your Child a Cell Phone:
About 75% of 12-17 year olds in the United States own a mobile phone, up from 45% in 2004, according to an April study by the PEW Internet & American Life Project part of the PEW Research Center.
Children are getting cell phones at earlier ages, industrial experts say. The PEW study, for example, found that 58% of 12 year olds now have cell phones, up from 18% in 2004.
Clearly, the numbers of children with cell phones has been growing. The same study found that half of 12-17 year olds sent 50 text messages a day and text their friends more than they talk to them on the phone or even face-to-face. Consequently, with the growing numbers of young cell phone users, it may be a situation that your child will be trying to keep up with his or her friends versus making a true decision on the best time for a child to own a phone.
When any child is getting a phone, he or she clearly needs to be spoken to about the dangers of what is being said and done with the cell phone. Further, these children need to be told not to use their phones in order to have communication with adults or individuals that they and/or you do not know. More discussions should be had about what types of pictures your children are allowed to take and what the effect is of any photograph that may get sent.
Finally, any parent must look at his or her own use of cell phones. If parents are texting while driving, on their phone all the time, or constantly distracted by their phones, that is the message they are going to send to their children. Good, responsible use of the phone both in and outside of the car can have an impact on what your child sees concerning his or her own use.
Education with regular family discussions can make a big difference on how your child uses his or her phone and the effect all phone use has on you and them. Locators on the phone can be helpful in knowing where they are. Responsible use can make a child safe and even enhance communications between you and your child. This advanced communication can make a big difference in how your child develops into an even better adult.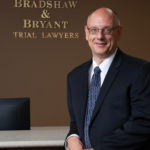 A founding partner with Bradshaw & Bryant, Mike Bryant has always fought to find justice for his clients—knowing that legal troubles, both personal injury and criminal, can be devastating for a family. Voted a Top 40 Personal Injury "Super Lawyer"  multiple years, Mr. Bryant has also been voted one of the Top 100 Minnesota  "Super Lawyers" four times.