There are a bunch of hot races going all over the country. I've been surprised by some of the names that may be in trouble. Watching national races has long been an interest of mine. Goes back to helping with a door knock when I was about 5 years old back in Rhode Island.
To me, a congress person always seemed like the person who should be able to help their district in Washington. Make sure that highway funds, public projects, and big problems that need federal help get dealt with. Sure, they play a role in the national issues, but it was the worker bee job as compared to the Millionaire club that makes up the Senate.
Part of the two year election cycle was to make sure that the local people had a voice, that the person kept coming home and delivering what the locals need. Therefore, it amazes me when any group goes to work on somehow tainting powerful Congress people who really do get the job done for their voters.
It happens from time to time when a Speaker of the House gets knocked off. Remember when they convinced a bunch of people in Washington that Tom Foley's opponent would become Speaker???
Minnesota has two close races that really make no sense to me. In the Sixth District we have Michele Bachmann vs Jim Graves . Now say what you want about Bauchman and good luck if you can come up with anything she has done that really helps her district. At best, if you buy into her political views maybe you can find some overall greater purpose in her service. But, day to day delivery of goods for the district? Not a thing. She didn't even go to work for a year and drew a paycheck the whole time. She moves to Iowa. The reality is as long as she has some kind of forum, she really could do most of what she does in or out of office. Put her on Fox.
In the other we got Rick Nolan vs Chip Cravaack. I didn't know much about Cravaack last election and there hasn't been much added in two years. The distract had Jim Oberstar who did so much for the district and for the state. He was voted out and guess what : nothing really has happened for two years. Time to go back to someone who can get stuff done.
Now it's no secret that I'm partisan. But, these two races really do amaze me if you are electing a congress person.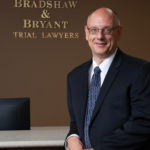 A founding partner with Bradshaw & Bryant, Mike Bryant has always fought to find justice for his clients—knowing that legal troubles, both personal injury and criminal, can be devastating for a family. Voted a Top 40 Personal Injury "Super Lawyer"  multiple years, Mr. Bryant has also been voted one of the Top 100 Minnesota  "Super Lawyers" four times.