This past week we learned of the United States Supreme Court decision in Wal-Mart v. Dukes. Basically, they ruled that the 1.6 million plaintiffs didn't have enough in common to be considered a class, which means more lawsuits and no ganging up on Wal-mart according to the 5-4 decision. There were probably a number of big corporations that were cheering the ruling.
This case is noteworthy for a number of reasons. One of them was covered quite well by fellow Injuryboard lawyer Brett Emison with:
Will Wal-Mart Bet Finish In The Money?, Brett Emison | June 20, 2011 5:14 PM
He discusses how one of the tort reform apologists and founder of the dubiously named Center for Class Action Fairness wrote about a stock market buy that he made based upon what he thought the ruling would be. He bet on the right group of conservatives and would have made money, except for as he explained:
"he was in court all morning."
I guess he must do his own trading. What would have been interesting is if he would have had a buy/sell order with a broker and the broker would have missed it. Would he have done something about that? Maybe , think about the dirty little "S" word?
I don't think much of betting on cases, even if it's through the stock market. I think even less of the case. None of the commentary is really focusing on whether there was really sexual discrimination here. I would hope that the fight continues and those real issues get looked at.
Class Actions are an effective tool for people with like claims to band together and take on a corporate giant. This decision weakens those protections, in a way that shields a wrongdoer and gives them a better playing field. Sure, the classes lawyers can make a lot of money, but when was that wrong?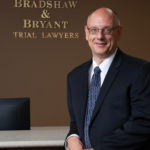 A founding partner with Bradshaw & Bryant, Mike Bryant has always fought to find justice for his clients—knowing that legal troubles, both personal injury and criminal, can be devastating for a family. Voted a Top 40 Personal Injury "Super Lawyer"  multiple years, Mr. Bryant has also been voted one of the Top 100 Minnesota  "Super Lawyers" four times.