Each year, a giant group of trial lawyers wait with baited breath for the release of the annual American Tort Reform Association legal hellhole list. I'm sure their families are all hoping that it will be in a warm and fun place to live. What could be better then a road map to the land of milk and honey?
Actually, most people ignore the list and the rest of us laugh at it. Last year, when Minnesota got a dishonorable mention it was for ridiculous reasons. Seems that at best it's a great press release for tort reformers to shake their fists at.
Looking at this years list we have:
– The Madison County Chief Judge Ann Callis pointing out that they made the list despite "Less asbestos cases were filed this year than last year — (2009-814 cases; 2010-650 cases) — a significant amount.
– There is West Virginia where the report attacks the state for not having an automatic right of appeal in every case, but then attacks the West Virginia Supreme Court for accepting an appeal in a medical malpractice case.
– Nevada made it on the list for one case.
– Philadelphia was number one because it has a court that is identified to handle tort cases. Which seems odd, because that is a regular suggestion that comes up to help with the heavily burdened court in most states. I guess with all of the criminal and family law cases blocking up the dockets, defendants get to starve the plaintiff out. A specialty court doesn't work for deny, delay, and defend defendants.
One little extra point is who funds this list? Looks like a great bunch of corporate citizens. Philip Morris, Dow Chemical, Exxon, General Electric, Aetna, Geico, State Farm, Pfizer, Johnson & Johnson and Nationwide.
Responsibility and accountability must look like hell.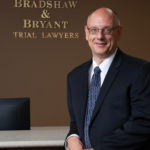 A founding partner with Bradshaw & Bryant, Mike Bryant has always fought to find justice for his clients—knowing that legal troubles, both personal injury and criminal, can be devastating for a family. Voted a Top 40 Personal Injury "Super Lawyer"  multiple years, Mr. Bryant has also been voted one of the Top 100 Minnesota  "Super Lawyers" four times.